Carne Asada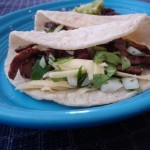 for Nachos, Tacos and Burritos
Yield

Prep Time

8

servings

15

minutes
Cook Time

Passive Time

15

minutes

4

hours
Yield

Prep Time

8

servings

15

minutes

Cook Time

Passive Time

15

minutes

4

hours
for Nachos, Tacos and Burritos

Yield

Prep Time

8

servings

15

minutes

Cook Time

Passive Time

15

minutes

4

hours

Yield

Prep Time

8

servings

15

minutes

Cook Time

Passive Time

15

minutes

4

hours
Combine marinade ingredients in a glass bowl and mix well. Coat each piece of beef completely and marinate in the bowl in the refrigerator 2 to 4 hours.

Heat charcoal or gas grill to high heat. Place the marinated meat directly on the grill and sear quickly on each side. Place on a cutting board and slice the meat against the grain into small, bite-sized pieces.

Serve with nachos, taco and burrito makings. Let your guests go "Freebird-Style" and make their own combination.
Nacho, Taco & Burrito Bar
Corn and flour tortillas
Tortilla chips
White onion and cilantro, chopped together
Pico de gallo
Guacamole
Monterey Jack cheese, shredded
Black beans, kicked up with diced pancetta or bacon, onion and jalapeño
Sour cream
Choices of hot sauces