Memphis Sparked Memories: News, Music, Food
Memphis, Tennessee
Both K.O. and I were children in the 1960's.  Television became more and more prevalent in American homes then.  It gave us an expanded view of the World.  In the 60's, the Civil Rights Movement was often in the news and Elvis Presley starred with Frank Sinatra in a TV special. Food and music of regions of the United States were showcased too.   So when we finally visited Memphis, our TV memories were sparked.
Mapping the Day
Fast forward to October 2008, I was asked to go to Memphis for my job.  It was common that I traveled the far reaches of the country then on short notice. Since K.O. and I were already planning to fly to Mississippi for my son's graduation from Air Force flight school the following week, we jumped at the chance.  We changed our Southwest flights so we could spend the weekend in Memphis, work a few days, then head to our vacation plans.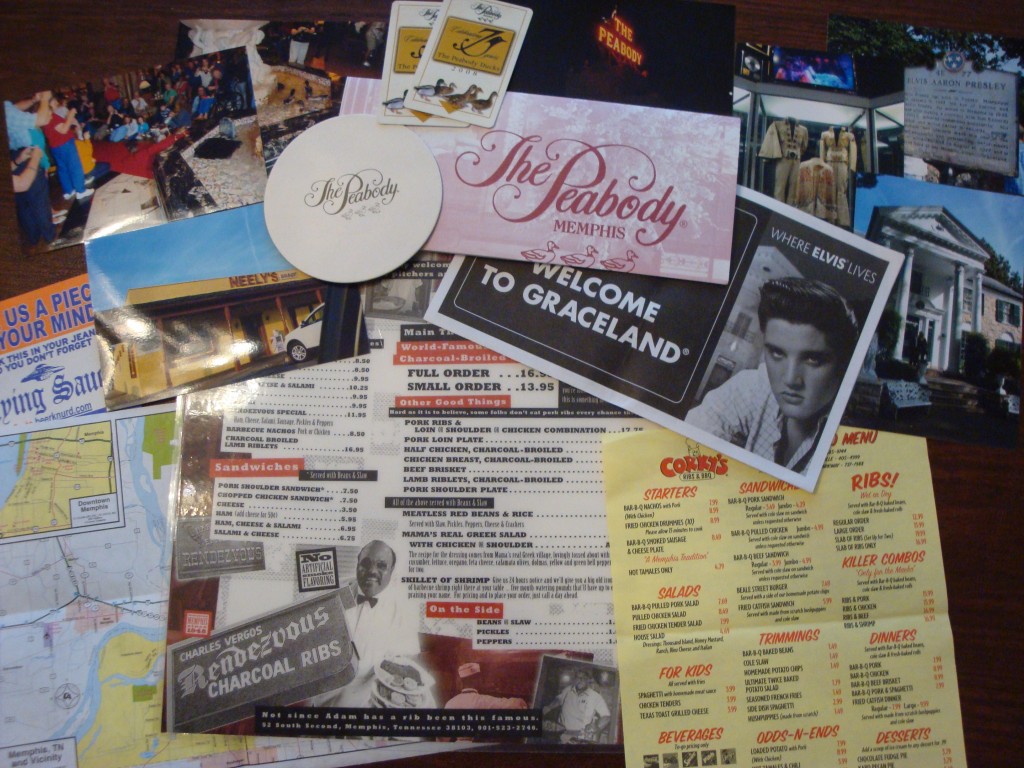 For the weekend, we stayed at the famous Peabody Hotel in the heart of downtown Memphis.  Since we didn't have time to plan in advance, we took in the popular Memphis sites.  It turned out to be a very memorable visit.
Local Story
As we walked up to the National Civil Rights Museum on Mulberry Street, we felt like we had been there before.  The images we saw on television in 1968 of the tragic day Martin Luther King, Jr. was shot at the Lorraine Motel were imprinted in our minds.  The museum is an amazing tribute to his work and life.
We also ventured to Graceland, Elvis Presley's Memphis home.  There we gained new insight into his music, family life and generosity to the people of Memphis.  It was an enlightening and worthwhile visit.
For our touristy visit to Memphis, we also strolled down Beale Street for Blues Music, grazed in famous Memphis-style BBQ restaurants like Rendevous, Neely's Bar-B-Que and Corky's and watched the famous ducks march out of the elevator into the pond of the Peabody Hotel.
View from the Table
Across the street from the Peabody is a locals favorite restaurant and bar called Huey's (http://hueyburger.com). That afternoon, the last MLB American League post-season game between the Boston Red Sox and Tampa Bay Rays was on the televisions above the bar.  So we relaxed with some Yuengling Beer and amazing Sports Bar fare:  Buffalo Wings, Fried Mushrooms and Memphis' Original Potato Skins.  Here's our version of Huey's-inspired Sports Bar food.  Kick back with our casual fare, your favorite beverage and watch the game on TV!
Sports Bar Bites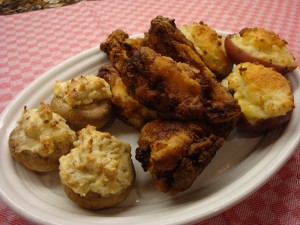 RECIPE: Wings
RECIPE: Mushrooms
RECIPE: Twice Baked Potatoes