Salty Air and Salty Chips
Dana Point Harbor, California
Salty, housemade potato chips drizzled with creamy blue cheese sauce and scallions called my name when we sat down for a late afternoon meal in Dana Point Harbor.  For our recipe, we don't attempt home made chips. The blue cheese sauce and scallions are a delicious topping on our favorite store-bought chips.  This snack is easy and so good. 
MAPPING THE DAY
There was excitement in the air that Friday afternoon.  Yacht owners hauled supplies and gear from their cars down the dock ramps in hand carts.  Love-struck couples pulled their wheelie weekend bags to the Catalina Express boarding area for the next 26-mile cruise across the sea.  Business lunches in the harbor-view restaurants had morphed into an early pass to the weekend.
LOCAL STORY
We often walk at Dana Point Harbor for our daily mile and a half for fresh salty air, people watching and beautiful scenery.  From the main parking lot, you can walk past the marina, cross over the bridge, then turn back and walk along the main channel.  You can also continue along the marina, past Baby Beach, the Ocean Institute and find a great view of the ocean, Secret Beach and tidepools below.
VIEW FROM THE TABLE
That Friday afternoon, we also opted to try a new restaurant located across Dana Point Harbor Drive from the marina called Jimmy's Famous American Tavern.  It has received lots of buzz in local columns and blogs.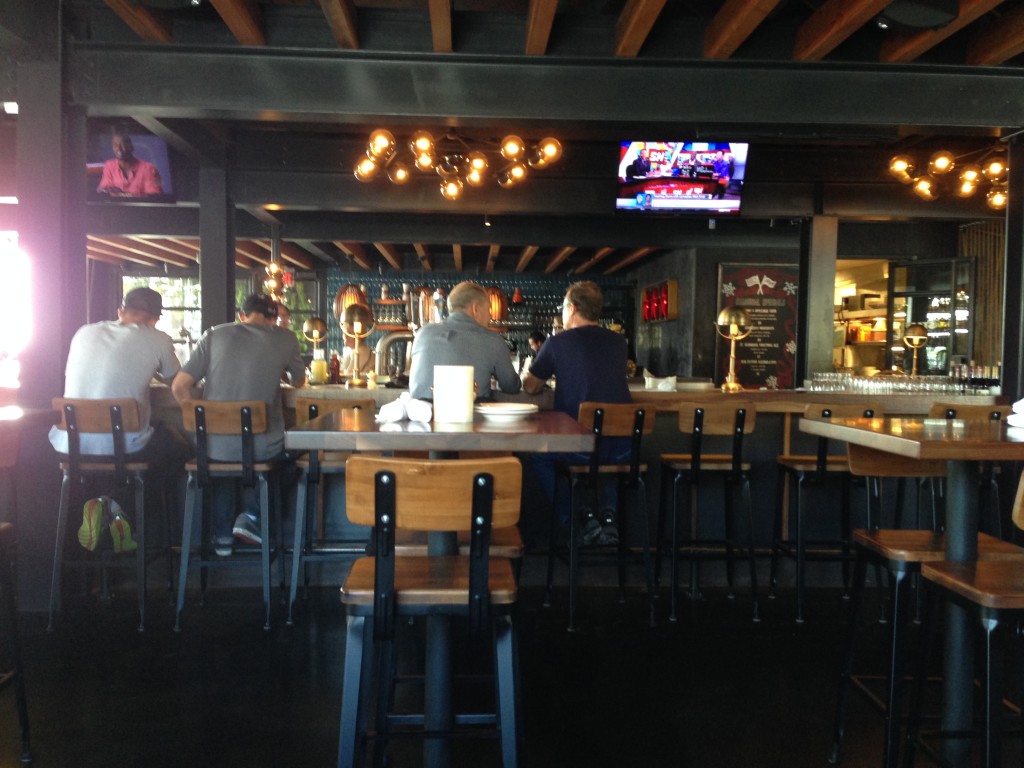 The newly renovated space is casual and comfortable with a hint of seaside-themed décor.  We sat in a high cushy booth next to the friendly "Tunalope" and ordered several appetizers.  Buffalo Style Meatballs with Wing Sauce, Shrimp in Garlicy Barbecue Sauce and Warm Housemade Potato Chips with Blue Cheese Sauce.  Every dish was great and we will go back soon to Jimmy's.
We have made our version of the potato chips with a blue cheese dip recipe that K.O. has been making for many years.  We used store-bought potato chips and scallion bites.
BLUE CHEESE SAUCE DRIZZLE ON POTATO CHIPS
RECIPE