London Shopping
London, England
Shopping in London gave us a bit of sticker shock. On our visit in March 2015, the U.S. dollar was weak for purchasing goods. We did some window shopping and our fair share of buying. We also gleaned inspiration at unique shopping venues for exquisite culinary preparations like Smoked Salmon & Lobster Roulade, Pie & Mash and Beef Wellington. The RoadTripFlavors version an elegant crusted meatloaf,  fit for a Queen shopping at Fortnum & Mason, is featured below.
Mapping the Day
The streets of London are filled with target-rich shopping venues. Top international brands are prominently represented there, but we were most drawn to Britain's unique shops and goods.
Local Story
Our Top Five Shopping Venues in London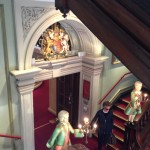 1. Fortnum & Mason is a glorious department store filled with fine clothing, entertaining and gifting goods, prepared food and perfectly packaged products for the home. It is said that the Queen shops (or has her people shop) here.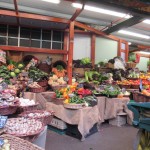 2. Borough Market is a foodie must-see. Local produce, cheese, charcuterie, meat, seafood and prepared local cuisine are artfully displayed in this open air market.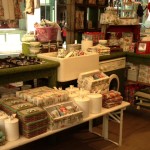 3. Cath Kidston, named for a local British designer, sports nostalgic floral designs on home decor, kids gear, accessories and clothing. The in-store experience is memorable and sales associates are extremely helpful, but you can also shop online.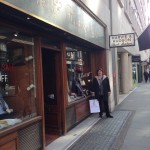 4. Jermyn Street is a one-way street to London's finest men's custom goods. Tailors, shirt makers and leather goods suppliers dot the avenue that dates back to the late 1600's. There are also art galleries, restaurants and Britain's oldest cheese shop on the street.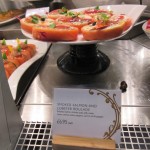 5. Harrod's is an iconic department store. There are many floors of upscale fashion, decor and furnishings, but the food hall is a must.  Feast your eyes and tastebuds on the finest delicacies.
View from the Table
Now back from London, we are experimenting with all the things we learned there. For this elegant meal, our dining table is set with a Cath Kidston tablecloth. We took the lead from the British to encrust a savory meatloaf in crisp sour cream pastry. (They are known for their meat pies you know.) We oven-roasted carrots, onions, Brussels sprouts and potatoes on the side. Leftovers will be perfect for Bubble & Squeak in the morning. And we will start our meal with the perfect Gin & Tonic.
Cheers.
Meatloaf Wellington
RECIPE