When in London, Drink Gin
London, England
London Dry Gin production was indeed a worthy lesson to explore in our quest for all things culinary in England's capital. And as always, when we travel, we drink like locals. We had wonderful experiences at two London Gin Distilleries. Each experience differed, just as dramatically as their products.
Mapping the Day
We don't always order a gin martini, but when we do, it is on the rocks. K.O. says she likes to let the ice melt for a short time to make her cocktail perfect. On our recent Gin Distillery tours in London, we found out why.
Our gin aficionado at City of London Distillery (C.O.L.D.) asked us to first try the flagship gin "neat". (The liquor is served up in a glass with no ice, water or any mixer.) It tasted like good gin, but admittedly it was a little harsh. Then he instructed us to add a splash of water to the glass. The taste mellowed. It was much more smooth. Water actually enhanced the sip. Hence, K.O.'s answer to her preference for the gin martini on the rocks: it is super cold and the ice melts a little to mellow the gin.
Our gin tours gave us history lessons, understanding of the gin distilling process and appreciation for the great passion people have for the end product. We enjoyed the longstanding tradition of Beefeater Gin in London that dates back to the 1800s. We also gleaned new appreciation for the passionate distillers at newcomer C.O.L.D., in the heart of London's city center. We tasted, experimented and even ventured out of our typical gin cocktail comfort zone to enjoy London's preferred Gin and Tonic. When in London, drink gin!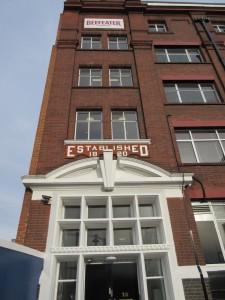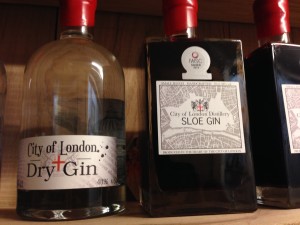 Local Story
Seven facts about gin that we learned on our Gin Distillery Tours:
London Gin, by definition, is a neutral spirit flavored through the distillation process with juniper berries. Botanicals may be added as well.
Aromatic botanicals, blended to a precise recipe, distinguish one gin brand from another. Common gin botanicals are coriander seed, citrus peel, Angelica root, almond, cardamom pods, cassica bark and orris root.
Gin recipes are held close, very close.
Gin stills are an integral part of the end product. The magnificent copper vessels are even named. (At Beefeater, named by number. At C.O.L.D., they are fondly named Clarissa and Jennifer in memory of the beloved Two Fat Ladies of cooking fame.)
Gin production takes only a day or so.
Mixers matter. In fine London establishments, a superior tonic manufactured by Fever Tree is poured with London Dry Gin. There has never been a better Gin & Tonic. (Order a supply of Fever Tree Tonic from Amazon via the link in the RoadTripFlavors Marketplace.)
Craft gin distilling is big and growing. Like the craft beer explosion, distillers are crafting innovative gins with ingredients and technique. Think small batches produced by very passionate and talented people.
View from the Table
Our tour at C.O.L.D. began with a warm greeting and invitation to sit at two large leather chairs in the bar. It was dark and clubby. The room was dramatically lit with soft orange and yellow tones. Each table in the bar was filled with conversation and laughter.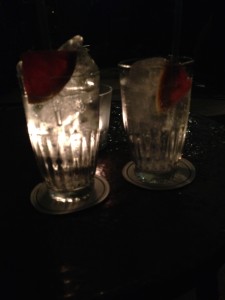 Quickly, two icy cocktails were delivered to our table. With a toast and a sip, we tasted the best gin and tonic of our lives.
Gin & Tonic
RECIPE