Big Sur RoadTrip
Big Sur, California
It had been many years since we traveled the California coastal highway from Monterey to Cambria: Big Sur. It is a 100-mile RoadTrip everyone should experience at least once.
We arrived in Monterey the night before our Big Sur excursion on a warm summer evening in June. The Holiday Inn Express near Cannery Row was a perfect respite for our short stopover. We had a wonderful evening meal at Schooners Coastal Kitchen located just a block from our hotel.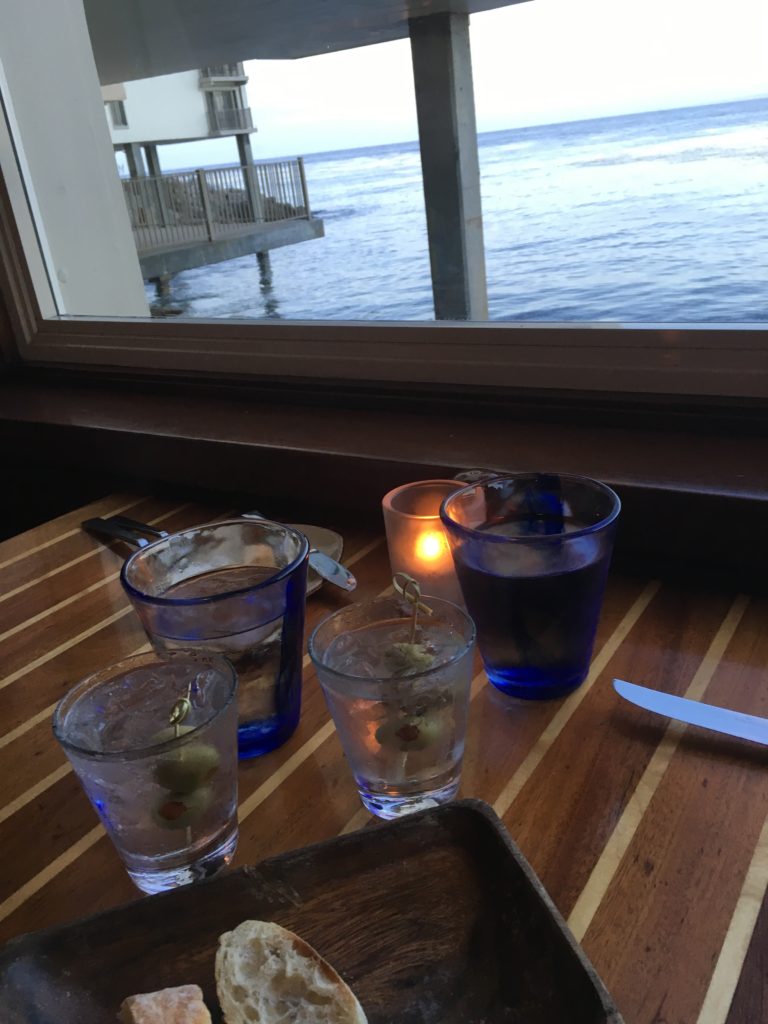 Our table hugged the bay front windows. We lavished on locally grown central California artichokes, fresh caught seafood and an ancient grain called Forbidden Rice. See our recipe below for our RoadTripFlavors version.
The next morning we set out to explore the rugged coastline of Big Sur.
Stop #1: Picnic Lunch Shopping. We picked up some grinder sandwiches, chips and water for the road. It was good planning for a magnificent beachfront picnic later on that day.
Stop #2: Point Lobos State Natural Reserve. Just 8 miles from Cannery Row on Highway 1, we entered Point Lobos State Reserve. A state park day pass is $10 and can be used all day for admission to other state parks along the highway. The sheer beauty of rugged cliffs, rough seas and windblown vegetation took our breath away. We left almost needing more, but there were many other stops on our itinerary for the day.

Stop #3 Bixby Creek Bridge. Back on Highway 1 for 11 miles, we stopped for a quick photo at the iconic bridge. Constructed of concrete and completed in 1932, it is one of the tallest single-span bridges in the world.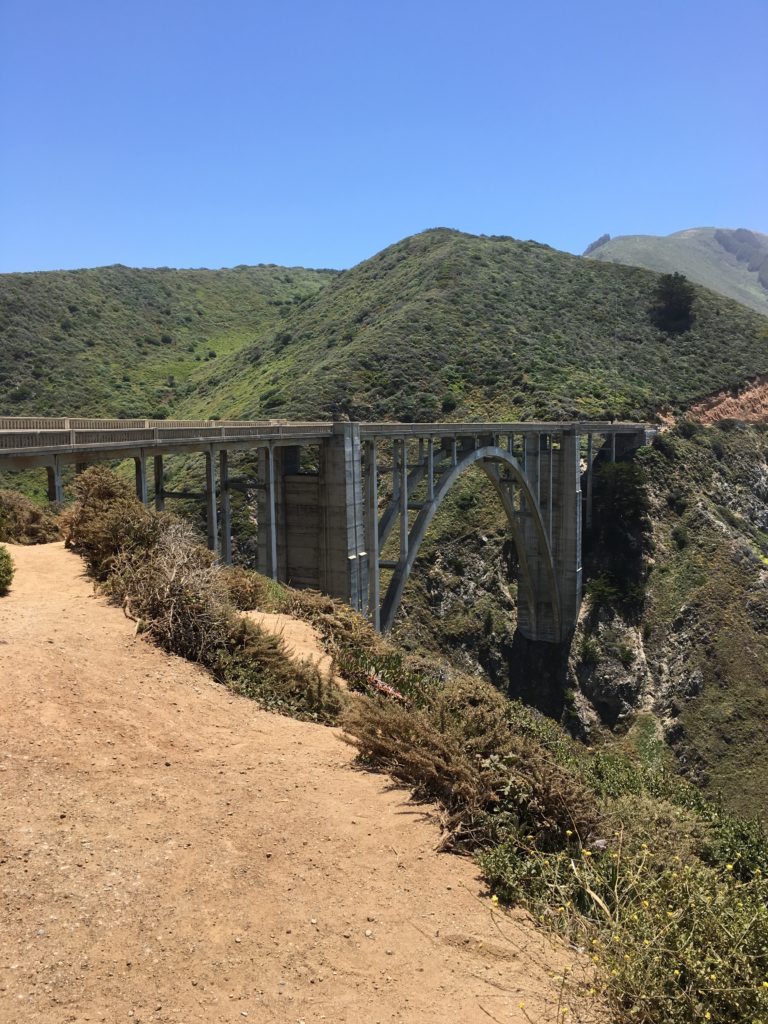 Stop #4: Andrew Molera State Park. About 8 miles from the bridge was our next stop. Admission was included on our previously purchased day pass. There are decent restrooms and some picnic tables. We crossed the foot bridge over the creek and made the decision to walk to the beach. It was a mistake. The mile each way was not terribly picturesque. And the beach was beautiful, but not worth the time and effort for our busy day.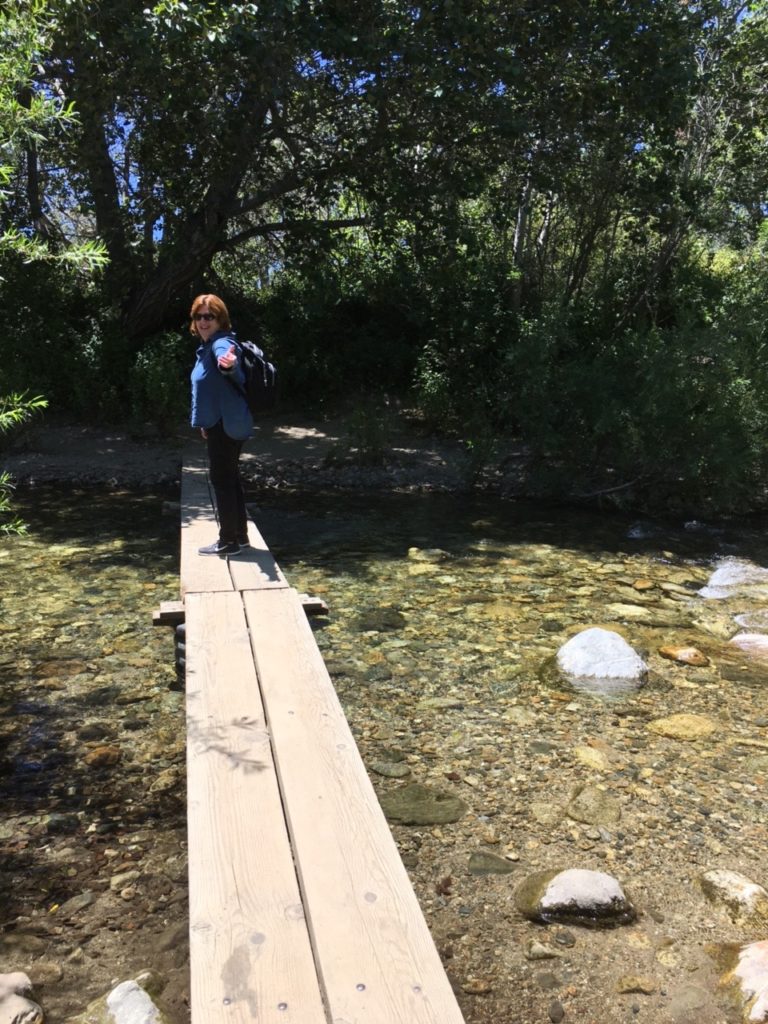 Stop #5: Pfeiffer Beach. This beach is a hidden gem. About 7 miles from Andrew Molera State Park is the entrance to Pfeiffer-Big Sur State Park. We didn't stop there, we kept going on Highway 1 past the ranger station. We knew to look for  a small sign that says "Narrow Road". As soon we could, we turned right, then cruised down the hill for about two miles. We paid $5 here (this beach is not run by the state, so our pass wasn't honored). We parked in the small lot, grabbed our picnic lunch and a blanket. A wonderful beach with flecks of purplish pink sand awaited. The colored sand is the product of manganese garnet that washes down onto the beach from the hills above. As we settled in on our blanket, we took in the beautiful surf and a dramatic rock arch that is continually pounded by the relentless surf.
Stop #6: Nepenthe.  This was once a spectacular cliff-hanging home. The generous family who owned it decided it was too good to save for themselves (their exact words). They transformed it into a restaurant and Nepenthe has been a Big Sur visitor destination since 1949. It's about four miles from Pfeiffer Beach. Laid back and comfortable, the restaurant, bar and shop offers unobstructed views of the ocean beyond. We grabbed a beer and soaked in the lofty beauty. The back of Nepenthe's menu says it all:
"Forget your worldly cares at Nepenthe's gay pavilion. Where the Phoenix bird repairs and is feeling like a million."
Stop #7: Julia Pfeiffer Burns State Park.  About six miles south of Nepenthe is another state park that accepts the day pass. We unfortuenaly burned our daylight hours on the two-mile walk to the beach and back at Stop #4. If we had spent our day more wisely, we would have seen McWay Falls, the only waterfall in California that drops into the ocean. Next time!
Stop #8: Piedras Blancas Elephant Seal Rookery, San Simeon. For our final stop, we settled in our car and drove 47 miles. Past the Piedras Blancas lighthouse, we saw signs to park. We were happy to discover that it was Elephant Seal season.  Certain times of the year, the blubbery colonies of sea beasts sunbathe on the sand, bark at each other and frolic in the coastal waters. They are protected, so we kept our distance behind the railings. In the photo below, the seals are just fine. They just love to lounge.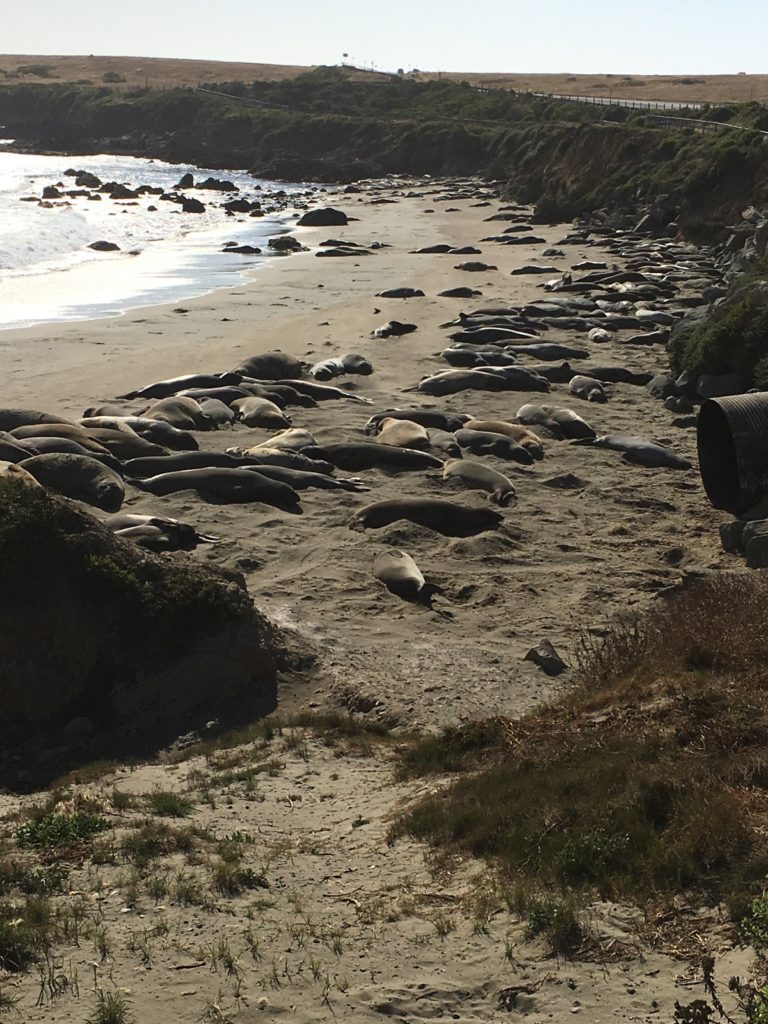 We made our way to our beachfront hotel in Cambria just before sunset. What a magnificent 100 miles. Big Sur and the California coastal drive is a must if only once in a lifetime.
Our dinner in Monterey the night before fortified us for our Big Sur RoadTrip. Here's our recipe for Forbidden Rice with Blackened Pineapple.