The Secret Ingredient to All Recipes Green Chile
New Mexico
MAPPING THE DAY
For our week long RoadTrip in New Mexico, we drove from the Arizona border on Interstate 40 into Albuquerque, then north on Highway 25 to Santa Fe, the high road through Chimayo to Taos, then navigated on multiple roads and byways north and west to Farmington and Four Corners, New Mexico.  At nearly every restaurant stop we made on our RoadTrip, green chile of some kind was on the menu.  I guess you could call it the "State Sauce" and it is so good.
LOCAL STORY
Now, let's get something straight right away.  You can't even come close to the distinct heat and flavor of the real deal:  Fire Roasted Hatch Green Chiles from New Mexico.  But if you don't plan to move to the land of plentiful green chile, we need to find ways to improvise.  After all, our mission statement is to provide recipes for the home cook.   Here are a few suggestions:
Buy green chile at the peak of the season from a green chile farmer in New Mexico who offers mail order service, have the chiles fire roasted, frozen and shipped to you.
Buy dried green chile from a shop like the one in Santa Fe: The Chile Shop.
Buy Hatch Green Chile canned (we found it in Farmington, NM)
Buy a nationally distributed can of green chiles ( just not the same)
Or, buy a variety of Poblano, Anaheim, Serrano, Jalepeno or other chiles in your local market and fire roast them yourself.  It's easy and we'll show you how.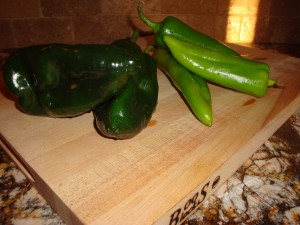 VIEW FROM THE TABLE
We fired up our charcoal grill and roasted two types of green chiles: Poblano (mild and meaty) and Anaheim (a little hotter with good pepper flavor).  After fire roasting, peeling, de-veining and de-seeding (yes, this is a labor of love), we have made Green Chile Sauce, Green Chile Stew, Green Chile Burritos, Green Chile and Eggs and Green Chile Enchiladas.  The recipes will come in future posts.  But let's master the secret ingredient first!
Fire Roasted Green Chiles
RECIPE