Vortex
Sedona, AZ
Sedona is a place of great beauty, spiritual calm and amazing food. We took it all in and came back with inspiration for blending common ingredients for memorable dishes. Our original recipe for Corn & Poblano Soup is a vortex of flavors.
Mapping the Day
In June 2012, K.O., daughter Marie and I took off on a 2000-mile RoadTrip to Arizona and New Mexico. We packed the Yukon XL to the brim with all of our travel necessities, three dogs and all of their gear. Our overnight destinations were Sedona, Albuquerque, Santa Fe, Farmington and back to Sedona before returning home to South Orange County. The open road and all of the scenery, sites and culture in between were there for us to discover.
Local Story
Our first stop in Sedona immediately gave each of us a feeling of tranquility. It is known throughout the world as a spiritual mecca, but none of us had really paid any attention to the stories of healing, meditation and personal enrichment. As the glorious beauty around us unfolded at each bend in the road, we felt the spiritual calm too.

On the second day, we went in search of renowned Sedona vortex energy locations. It is said that the sites have energy flows with uplifting powers. We parked the car on the side of a road near the Sedona airport and walked up a rugged trail. None of us were dressed for hiking, but we were there and curious. The dry heated air filled our lungs and dusty red earth puffed up on our bare sandaled feet as we trekked up the hill. We climbed to a summit and suddenly a crazy burst of wind hit our faces and sort of pulled us downward. It was a vortex location. We stopped and took in the unusual wind, the red rock scenery views and vegetation gnarled in beautiful spirals from the vortex forces. It was a spiritual moment. We all felt happy and well.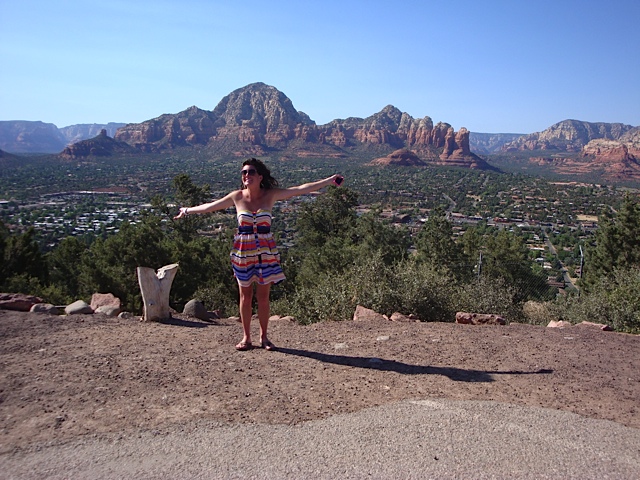 View from the Table
That evening we dined at a wonderful café that specializes in Southwestern dishes. The chef masterfully integrates common ingredients like corn, beans, chiles and proteins with spices in unique ways. In the past two years we have experimented by taking the chef's inspired approach to ingredient combinations and developed our original recipe for Corn & Poblano Soup.
Corn & Poblano Soup
RECIPE