Vegetables 3 Ways for a Luncheon or Supper Sandwich
Rome, Italy
 MAPPING THE DAY
When in Rome, we jumped on a double decker tour bus to see all the major sights in a just a few hours.  It was carefree, inexpensive and packed with photo opportunities.
LOCAL STORY
We spent an afternoon touring the city and even stopped at the Coliseum and Trevi Fountain for a closer view.
VIEW FROM THE TABLE
All around Rome, restaurants display roasted vegetables in refrigerated cases.  At our dinner that night, our waiter prepared our appetizer plate to order.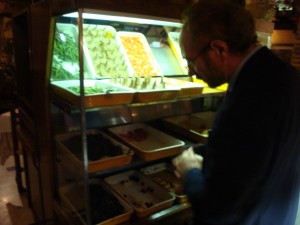 The simplicity of preparation in Italian cuisine lets the flavors of quality ingredients shine through.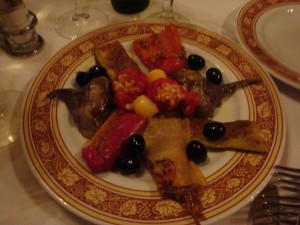 RECIPE
The trend for "Meatless Mondays" (an international campaign that encourages people to not eat meat on Mondays to improve their health and the health of the planet) and our personal desire to cut back on cholesterol and fat intake inspires us make Roman-style roasted vegetables a complete meal.  Portabello mushrooms, grilled and sliced, have a big, beefy flavor.  Layered with marinated, grilled and fresh vegetables, we have built a very satisfying sandwich for hearty lunch or supper.
Printable recipes
Grilled Vegetable Sandwich
Vegetables 3 Ways (Fresh, Grilled and Marinated) Make a Satisfying Meal
Ingredients
Marinated eggplant (see recipe below)
Portabello mushrooms, (one per person)
Red onion, sliced thick
Red bell peppers, cut into quarters with seeds and veins removed
Roma tomato, sliced
Romaine lettuce leaves, washed and dried
Soft roll
Soft cheese (we used Laughing Cow wedges, but any soft spreadable cheese will be great like brie, cream cheese, etc.)
Salt and pepper, to taste
Preparation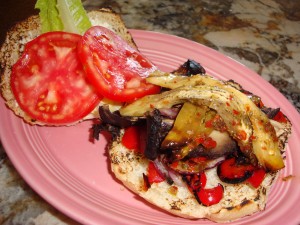 Prepare the marinated eggplant in advance.  Grill the mushrooms, bell peppers and onion.  Remove the blackened skin from the peppers if desired.  Toast the sandwich roll if desired and spread the cheese on the top half.  Assemble the sandwich, bottom roll, grilled red bell pepper, portabello mushroom (sliced), onion, marinated eggplant, fresh tomato and lettuce.  Salt and pepper to taste.  Drizzle with some of the eggplant vinaigrette.  Place the cheesy roll on top and slice in half.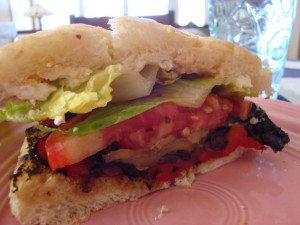 Marinated Eggplant
Ingredients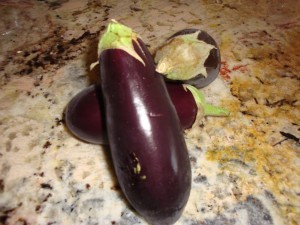 1-1 1/2 lbs eggplant
1/2 cup olive oil, plus olive oil to drizzle on the eggplant
1/2 cup red wine vinegar
1-2 teaspoons crushed red pepper flakes
3 garlic cloves, minced
1/2 teaspoon salt
1 teaspoon dried oregano
Preparation 
Peel and slice the eggplants into 1/4 inch slices.  Drizzle with olive oil and salt and pepper.  Place on hot preheated BBQ grill for about five minutes on each side.
Mix the olive oil, vinegar, pepper flakes, garlic, salt and oregano in a jar and shake well.  Remove the eggplant from the grill, slice into 1/2 slices and place in a glass dish with the marinade/dressing and marinate in the refrigerator for two hours or overnight.