Vegetables 3 Ways for a Luncheon or Supper Sandwich
Rome, Italy
The trend for "Meatless Mondays" (an international campaign that encourages people to not eat meat on Mondays to improve their health and the health of the planet) and our personal desire to cut back on cholesterol and fat intake inspires us make Roman-style roasted vegetables a complete meal.  Portabello mushrooms, grilled and sliced, have a big, beefy flavor.  Layered with marinated, grilled and fresh vegetables, we have built a very satisfying sandwich for hearty lunch or supper.
 MAPPING THE DAY
When in Rome, we jumped on a double decker tour bus to see all the major sights in a just a few hours.  It was carefree, inexpensive and packed with photo opportunities.
LOCAL STORY
We spent an afternoon touring the city and even stopped at the Coliseum and Trevi Fountain for a closer view.
VIEW FROM THE TABLE
All around Rome, restaurants display roasted vegetables in refrigerated cases.  At our dinner that night, our waiter prepared our appetizer plate to order.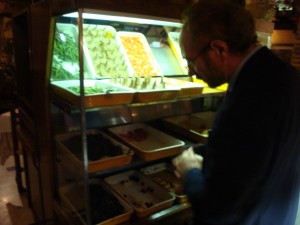 The simplicity of preparation in Italian cuisine lets the flavors of quality ingredients shine through.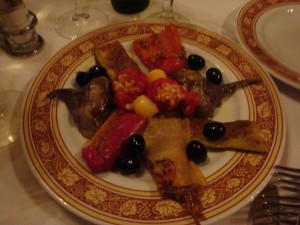 Grilled Vegetable Sandwich
RECIPE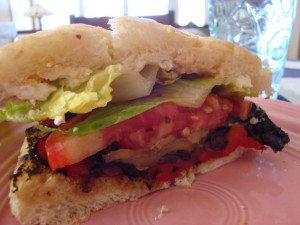 Marinated Eggplant
RECIPE