Amazing Kids at Cooking Camp
La Jolla, California
MAPPING THE DAY
Kids Cooking Camp for 7 to 9-year-olds at the YMCA in La Jolla was inspiring, joyful and enriching.  My daughter Margaret, who is a high school teacher during the school year, is spending her summer with some great kids this summer as a camp counselor.  The Y has an awesome camp program with an abundance of themed camps all summer, including Kids Cooking Camp.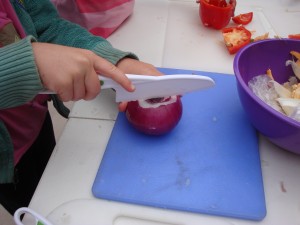 LOCAL STORY
For Kids Cooking Camp, Margaret developed a week full of Summer Meal-themed dishes for the group of 32 kids to prepare.  Appetizers, Side Dishes, Entrees and Desserts were all prepared by the kids from scratch.  At the end of the week, the kids were truly ready to plan and cook healthy and tasty meals for their families (with a little help from an adult).
VIEW FROM THE TABLE
Margaret invited me to spend a day with the kids to make some RoadTripFlavors-inspired dishes.  We made Spice-Rubbed Grilled Chicken Kabobs with Homemade BBQ Sauce, Veggie Kabobs, Charred Corn Salad and Grilled S'mores.  My favorite part of the day was when I asked the group of kids why they would want to cook  from scratch rather than buy packaged and prepared food.  Many kids raised their hands.  They said that in homemade recipes, you can "make it taste the way you want it", "it is healthier" and "there are no preservatives".  We have some amazing chefs in our future from the La Jolla YMCA Cooking Camp!
RECIPES
Cook with your kids.  They will surprise you!
Kids Cooking Camp Recipe Book