The Gift
Montreal, Canada
What a day for a foodie tour! Every aspect was a gift. The weather could not have been better for the many stops on our itinerary. Along the way we made many food discoveries. Our first recipe inspired by the day in Montreal is Pepper Feta Dip (see recipe below). Feta has never tasted so good whipped with olive oil, roasted red peppers, garlic and a little heat.
Mapping the Day
She called at 9:15 a.m. to let us know she was on her way. At 9:50 a.m., she arrived at the front of our downtown Montreal hotel in her bright red BMW. We had not seen Norma since 2010. But this dear friend welcomed us to Montreal with a gift, well many gifts. She pulled to the side of the road and handed me a crisp white pastry box with a pink ribbon. "Here's our first taste of our Montreal foodie tour," she explained with glee. Inside were three cannoli from her favorite Italian pastry shop.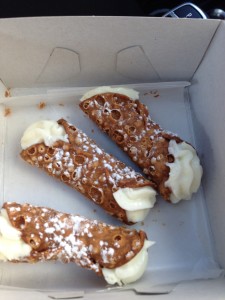 Local Story
We originally met Norma and her husband Gerry on a Caribbean cruise. With their dining table next to ours for a week, we shared travel stories and our love of good food. We also gave each other on open invitation to visit our home towns. We stayed in contact via social media and then it finally worked out for us to visit Montreal. Gerry was out of town on business, but Norma graciously offered to give us a tour.
View from the Table
Norma escorted us to many tables in Montreal that day. From bagels, cappuccino, Italian grocery store sliced meats and cheese, smoked meat sandwiches, Greek tzatziki and kopanisti to rooftop view cocktails and  Montreal-Canadiens-Hockey-fan ribs, we grazed all day with Montreal sightseeing mixed in between.
There are many more blog posts to come inspired by this amazing day. What a generous gift from a Montreal local. The greatest gift of all however, is the friend we found in our travels.
Recipe
Pepper Feta Dip