Charming Quebec City
Quebec City, Quebec, Canada
This city is in a word… charming. We researched a walking tour prior to our arrival. We saw the prime sights, lost ourselves on narrow streets within the old city, shopped in the oldest North American grocery store and found a wonderful French Canadian restaurant. Our recipe for Meatball Ragout below is inspired by our day in Quebec City.
Mapping the Day
We stepped off the gangplank of our cruise ship for a walking RoadTrip to visit the oldest grocery store in North America. It sounds like an unusual destination, but we are always in search of the best food purveyors throughout the world.
As we entered the Place Royal, we were immediately struck by the charming atmosphere of Quebec City. Cobblestone streets, European architecture, hand-painted murals, merchants of fine goods and people enjoying the bright sunny day in early Fall made us feel happy to be visiting for the first time.
We waited for our turn on the Funiculaire that swept us up the steep incline into the old city. The view of the St. Lawrence River emerged below us. It was breathtaking.
And the charm of Quebec City revealed itself with every step to our destination a mile away: J. A. Moisan Grocery Store.
Local Story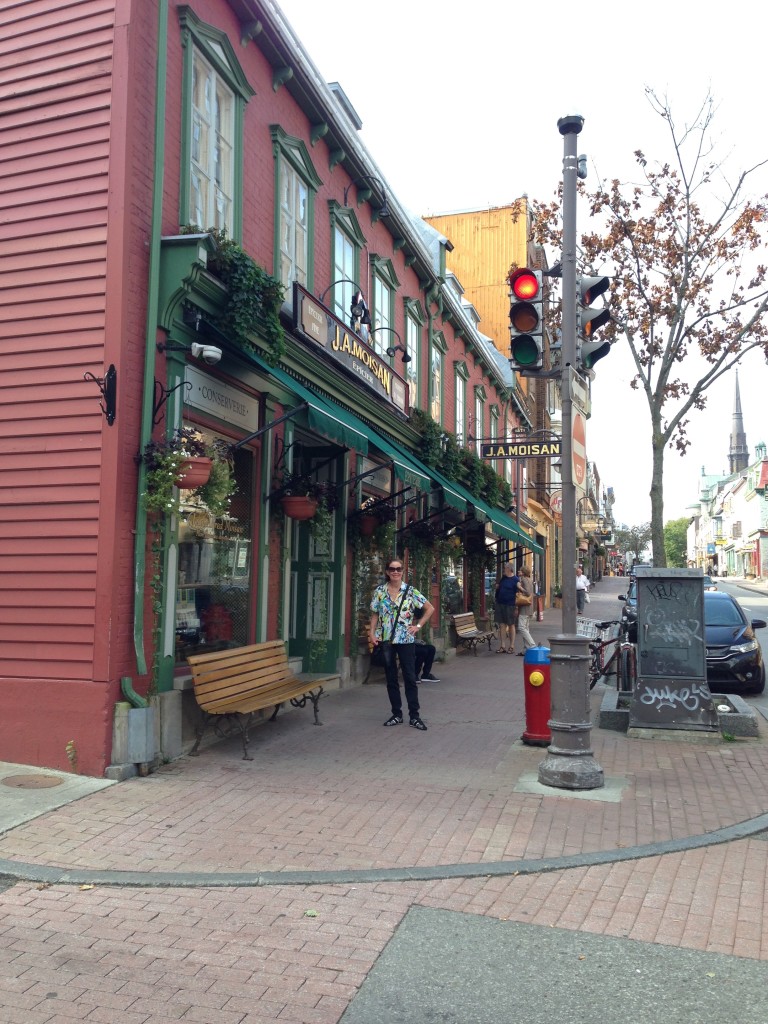 Established in 1871 by its namesake owner, the grocery store delivers everything it promises in its mission statement:
To be recognized for our unique food concept, in the region, in Quebec, in Canada and abroad.
To be recognized for the quality of our products as well as the knowledge and know-how offered by our staff.
To be recognized for the quality excellence of our products and our the exceptional customer service.
To be recognized for our professionalism in developing a partnership that is always mindful of our community.
As we entered the store, we were welcomed by a butcher of fine charcuterie. Straight ahead was a room full of imported spices from all over the world.
We could have shopped for hours and then prepared a magnificent meal, if we only had a kitchen. We picked a few items carefully, for we knew we had to carry our treasures back to the ship and then home on an airplane.  We opted for some jam for gifts, spice blends for our pantry and a few photos of the historic shelves in the oldest grocery store in North America. We were elated with our find.
View from the Table
A tip from a travel blog guided us to a restaurant called Aux Anciens Canadiens that serves authentic French Canadian dishes. The pre-fixe luncheon menu offered a starter, main dish, dessert and a glass of beer or wine for about $20 US.

We tried many new things: wild caribou and bison rillettes with carrot relish, pea soup, beef Bourguignon and maple syrup pie. The standout was meatball ragout, which inspired our recipe below. What a delightful meal in a historic building in one of the most charming cities in the world.
Meatball Ragout
Recipe