Magic of Mojo Sauce Discovered by Baby Blogger in the Canary Islands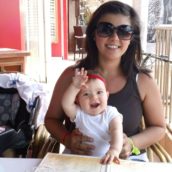 Tenerife, Spain
By Guest Baby Blogger, Emily Jean
(with a little help from her parents David and Kathee)
Mapping the Day   
I have been quite fortunate this first year of my life to become a very frequent traveler to many countries in Europe, as well as to our home land in the United States.  My most recent adventure with my parents took us to Tenerife, Spain where we were able to escape the cold of the long German winter and soak up some sun in an island paradise.   This was a trip of firsts for me: beach, swimming, crawling, as well as saying "Momma" and "Dadda".  One of my favorite adventures was our lunch in Playa de las Americas.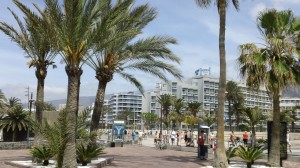 Local Story
Playa de las Americas was built in the 1960s beside the town of Los Cristianos and stretching west to the Costa Adeje.  It is a small resort area featuring bars, nightclubs, restaurants, attractions, and beaches.  Most of the beaches are man-made with imported sand from Africa.  The native volcanic sand is quite dark.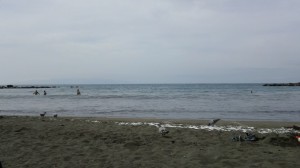 A View from our Table
Our shuttle bus dropped us a few blocks from the beach at the Magma Arte and Congresos.  We continued our journey to the beach on foot and I was thrilled to ride on Daddy's shoulders.  A few minutes later, I had my first ever glimpse of the ocean. What a beautiful sight!  We continued south along the boardwalk sampling menus and being harassed by restaurant servers trying to get us to come inside.  But my parents kept looking for a place that served truly local fare.  It took us another quarter mile or so until we stumbled upon "Molo" a very small boardwalk restaurant that was quite busy despite not having someone trying to beckon tourists in the door.  It was our kind of place.  Although the area is known as a tourist trap filled with restaurants mimicking local fare, Mom and Dad were able to sniff out one of the best!  They made me my usual baby fare while they got to order the server's recommendation: "pick any fish and add Mojo sauce." Dad ordered grilled perch and Mom the tuna.  Both were fresh and locally caught, but what really made the dish was the Mojo sauce.
Mojo sauce is a Canary Islands specialty.  There are two types: red and green.  It is served on practically everything from fish to chicken.   After their meal that day, Mom and Dad referred to Mojo as the "Ketchup of the Island" and ate as much of it as they could find.  Unfortunately, they continually reminded me that I was too young to sample, but promised to recreate it at home so when I finally do get old enough, I will be able to enjoy the magic that is Mojo sauce.
SPANISH MOJO SAUCES 
RECIPE