Tonight's Menu: Yucatan Fish Cakes Platter
Our Kitchen at "The Resort"
K.O. and I jokingly call our home "The Resort".  Not that it is located on an isolated beach or anything, but it is a relaxing place where we enjoy entertaining family and friends.  As we have been writing our cookbook, which will be available in printed and ebook formats on this website on April 30, we have talked with many of our prospective readers.  There has been a common thread in our discussions.  Many of our readers would like more help in creating easy meal menus that make sense.  So in the next several weeks, we will be drawing from our blog archives and introducing a few new recipes to present complete and easy themed meals.
When we entertain, we have adopted the practice of posting our menu for the evening.  We picked up this pig statue at a local home decor store.  Instead of a Menu Board, we have a Menu Pig.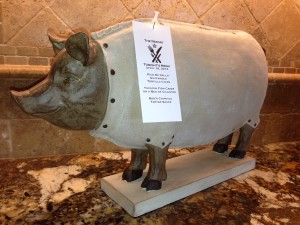 Tonight's Menu
Pico de Gallo
Guacamole
Restaurant-Style Tortilla Chips
Yucatan Fish Cakes on a Bed of Cilantro
Bob's Chipotle Tartar Sauce
Caribbean Black Beans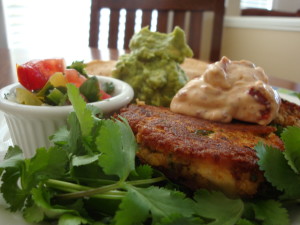 To make the meal easier, buy pre-made, high quality Pico de Gallo, Guacamole and Restaurant-Style Tortilla Chips at a Mexican specialty or grocery store.  Prepare the fish the day before and save leftovers for the fish cakes.  The tartar sauce may be prepared up to two days in advance as well.
Click links to recipes for homemade Pico de Gallo, Yucatan Baked Grouper, Bob's Chipotle Tartar Sauce, Caribbean Black Beans and the new featured dish, Yucatan Fish Cakes.
Yucatan Fish Cakes
RECIPE