MLB Spring Training is Personal … for Players and Fans
LA Angels, Cactus League Spring Training, Tempe, Arizona
MAPPING THE DAY
Major League Baseball Spring Training is personal … for the players and the fans.
Every player's move is monitored, recorded and analyzed.  Not only ability counts, attitude does too.  An at-bat, pitch, pop fly, stolen base or even cheering a teammate to do his best can mean one guy is going home and another may be advancing to a coveted spot on the team.
Fans are free to mingle among the minor league playing fields to see the stars of the future.  Lucky fans can find themselves saying hello to MLB legends who coach, mentor and share their expertise with the young players.  Other lucky fans sit right above home plate on the first base side to watch the intimate workings of a complex game and organization.
LOCAL STORY
The luckiest of all was a young fan.  When Angels bullpen pitcher Ernesto Frieri walked toward the locker room, he stopped to sign the young man's baseball.  In a brief conversation, Ernesto learned the boy is a pitcher too.  Instead of rushing off to the locker room, Ernesto stayed and talked with the boy more.  He then showed him how he holds the baseball for several of his signature pitches.
The young fan was beaming with joy after his lesson from Frieri.  Such an act of kindness was heartwarming.  Spring Training is all about personal experiences that the venue has to offer.
VIEW FROM THE TABLE
K.O. and I did all of that at the Los Angeles Angels Spring Training Camp in Tempe this week.  It was special, memorable and fascinating.  A special thank you to "House" for extending the royal treatment to us.
So what about baseball food?  At Tempe Diablo Stadium, typical stadium food is offered.  Hot dogs, cotton candy, peanuts, BBQ sandwiches and of course, nachos are consumed for the full baseball stadium experience.  Now we know that sports fans love tortilla chips smothered in bright orange melty "cheese" with jalapenos.  But when you are back home, why not raid your pantry and refrigerator to make a creation of your own?  You can pack it with healthy ingredients and it will still taste really great during the game.
RECIPE
Our pantry and refrigerator are probably stocked more than most, but we cook all the time.  Stock up on a few go-to canned items that you prefer for easy nacho making when the game is on TV.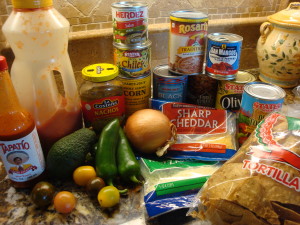 We opened a few cans and created a healthier, very tasty and satisfying "House" Nachos.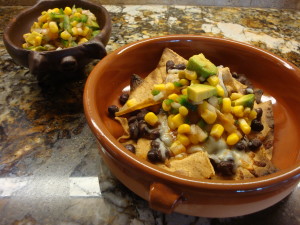 Ingredients
Tortilla chips
Grated cheese, jack, cheddar or whatever you have
Black beans, spiced up with some canned green chile sauce
Corn salsa (see recipe below)
Preparation
Heat the oven broiler.  On a sheet pan, place a piece of aluminum foil.  Spread tortilla chips in a single layer.  Layer spiced beans over the chips and then top with grated cheese.  Place under the broiler until the cheese melts and the chips brown slightly.
Place in a serving dish and top with corn salsa.
Note:  Sour cream, olives, nacho jalepenos, chilis, salsas, guacamole and many other ingredients can be added to make it your own.
Corn Salsa
RECIPE