San Francisco Views from the Buena Vista
San Francisco, California
MAPPING THE DAY
At the corner of Hyde and Beach, there's a "good view" from the Buena Vista of some of San Francisco's iconic images.  The Powell and Hyde Cable Car toward Fisherman's Wharf ends right at the restaurant's doorstep.  Fisherman's Wharf is down the street and a view of the Bay is just beyond.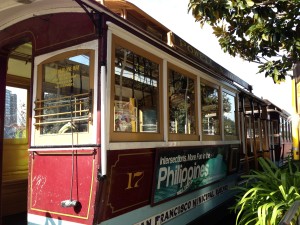 LOCAL STORY
A day in the city for us often starts at the BV for a hearty breakfast.  Crispy corned beef hash with poached eggs and sourdough toast is always a top choice.  The coffee flows freely throughout the meal or opt for the famous Irish Coffee invented there in 1952.
After breakfast, a walk to Fishermans' Wharf and Pier 39 delivers San Francisco traditions.  Dungeness crab, ferry boat tours, a view of Alcatraz, Boudin sourdough bread, celebrated restaurants and shopping can be discovered within a few blocks.
After a few hours, we jump on the Green Line public transportation toward the Ferry Building.  It skirts the bay and lands us just across the street from the food-lovers paradise.  (For more about San Francisco's Ferry Building, see our blog entry at http://roadtripflavors.com/i-left-my-heart-in-san-francisco.)
VIEW FROM THE TABLE
For St. Patty's Day, we cure our own Corned Beef for a boiled dinner with cabbage, potatoes and carrots.  (See our recipe at http://roadtripflavors.com/deli-delicious-corned-beef-sandwiches.) We always make enough so we have leftovers for Corned Beef Hash the next day.
Here's our version of our BV favorite dish.
CORNED BEEF HASH WITH POACHED EGGS
RECIPE