Midnight Snack in Tokyo
Tokyo, Japan
MAPPING THE DAY
Twenty high school-age church youth group members greeted us at the gate in the Tokyo Airport. My high school friend Mark and I had been awarded scholarships to travel through Japan for a month.  Our first hosts in Japan could not have been more gracious and welcoming.
LOCAL STORY
As we gathered our baggage, we awkwardly conversed with our new friends.  Together they tested their English with us and giggled as they tried to understand our responses.  We were no help in making it easy for them. Our combined knowledge of Japanese was limited to please, thank you and goodbye.
Somehow we managed to let them know we were hungry.  Their eyes lit up that they knew exactly where to take us for a late night snack.
VIEW FROM THE TABLE
It was nearly midnight when we entered the small fast food restaurant.  The menu was posted above the order counter with big photos of each plate. In a leap of faith, I pointed to a rice dish with what looked like gravy over it.  As we sat down at long communal-style tables in the small restaurant, our friends watched intensely as we took our first bites of Tokyo-Style Curry.
Here's our version of what I remember from that meal in 1974.  Japanese cuisine is an art.  I do not characterize this recipe as authentic.  It is just good and oh so comforting on a cold night.
Midnight Snack Curry for Two
RECIPE: Curry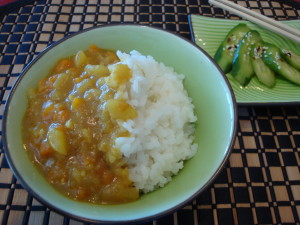 Japanese Cucumber Salad
RECIPE: Cucumber Salad