Southern Italy RoadTrip to Sorrento
Sorrento, Italy
MAPPING THE DAY
Continuing on our RoadTrip from Pompeii, we traveled south along the rugged coastline of Southern Italy.  We were absorbed by the breathtaking views of the cliffs sharply dropping to the Mediterranean Sea, Mt. Vesuvius behind us and hillside enclaves of Italian life.  The short drive on the narrow, winding road delivered us to the charming town of Sorrento.
LOCAL STORY
An inviting town square welcomes visitors to Sorrento.  Narrow streets were filled with shops, restaurants, markets and people.  We loved everything about Sorrento.
VIEW FROM THE TABLE
We found our luncheon restaurant, Aurora Ristorante, much to our delight.  A huge display of roasted vegetables dazzled our senses at the entry.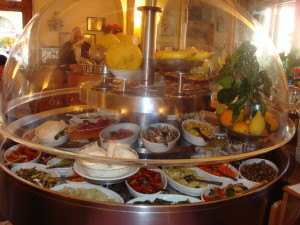 We sat at a small table for four dressed in bright pink linens and formal place settings.  Bottled water, then wine was served.  Our first course: Cannelloni Stuffed with Spinach and Ricotta.  Delicate and flavorful, each component of the rolled pasta dish complemented the other.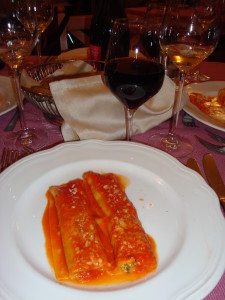 If that was not enough, a second course of paneed chicken with béchamel sauce, buttery roasted potatoes and bright cooked carrots was served.  And finally a petite dessert of chocolate and cream layers with coffee was served.  It was a truly impeccable Italian lunch.
Here's our version of the Cannelloni we enjoyed in Sorrento.  We made each component from scratch to capture the fresh flavors of our lunch that day.  There are certainly quality store-bought pastas and sauces that may be substituted.
Cannelloni
RECIPE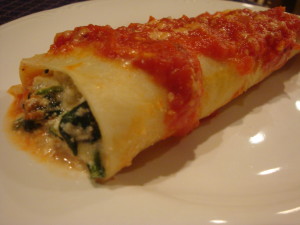 Homemade Pasta
RECIPE: Pasta
Homemade Marinara
RECIPE: Marinara