Meet Me for A Salad Like the Brown Derby Cobb
Hollywood, California
A dramatic deconstructed salad, the famous Cobb has been a staple on our dinner table since we first tried it at the legendary Brown Derby restaurant.  Each bite can be a new pairing of ingredients on your fork: creamy avocado, sharp blue cheese, juicy tomato, savory chicken, salty bacon, hard-cooked egg and crisp lettuce topped with luscious French dressing.
MAPPING THE DAY
The Hollywood Brown Derby Restaurant opened in 1929.  It was an immediate success with its Hollywood and Vine location surrounded by movie studios, theaters and broadcasting studios.  Movie stars, studio moguls and other rich and famous gathered there for decades.  "Meet me at the Derby" they would say.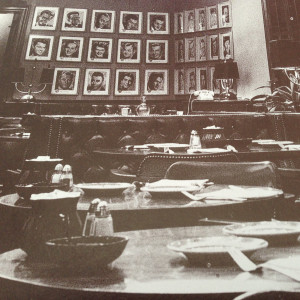 It was at the Hollywood location that the Cobb Salad, a dish young owner Bob Cobb originally made for himself as a late night snack, first appeared on an official Brown Derby menu.
LOCAL STORY
In the late 1970's, the bright lights of Hollywood were fading.  The entertainment industry had moved to other parts of Los Angeles.  Demonstrating the deterioration, the iconic Hollywood sign that stood in the hills above the city was in terrible dilapidated shape.
As a journalism student at the University of Southern California, one of my assignments as a reporter for The Daily Trojan student newspaper was to cover the story of a campaign to restore the sign.  In my research, I found myself passing by the front of the famous restaurant. I peered in and saw the images of the luminaries who had dined there for so many years. It was a dream that I would be able to dine there one day.
Sadly, the Hollywood Brown Derby closed in 1985.
VIEW FROM THE TABLE
Fast forward to 1998, K.O. and I stayed at the MGM Grand in Las Vegas for a business trip.  Upon arrival, we discovered that one of the restaurants housed in the hotel then was indeed a new location for the legendary Brown Derby restaurant.  We made an 8:00 PM reservation.  Crisp white tablecloths graced each table. We each ordered the famous Cobb Salad, then I had Beef Wellington and KO had Pepper Steak.  The service was flawless.
My dream of dining at the Brown Derby came true and we have been preparing the iconic salad, fit for Hollywood stars, ever since.
Meet Me for a Salad Like the Brown Derby Cobb
RECIPE: Cobb Salad
RECIPE: French Dressing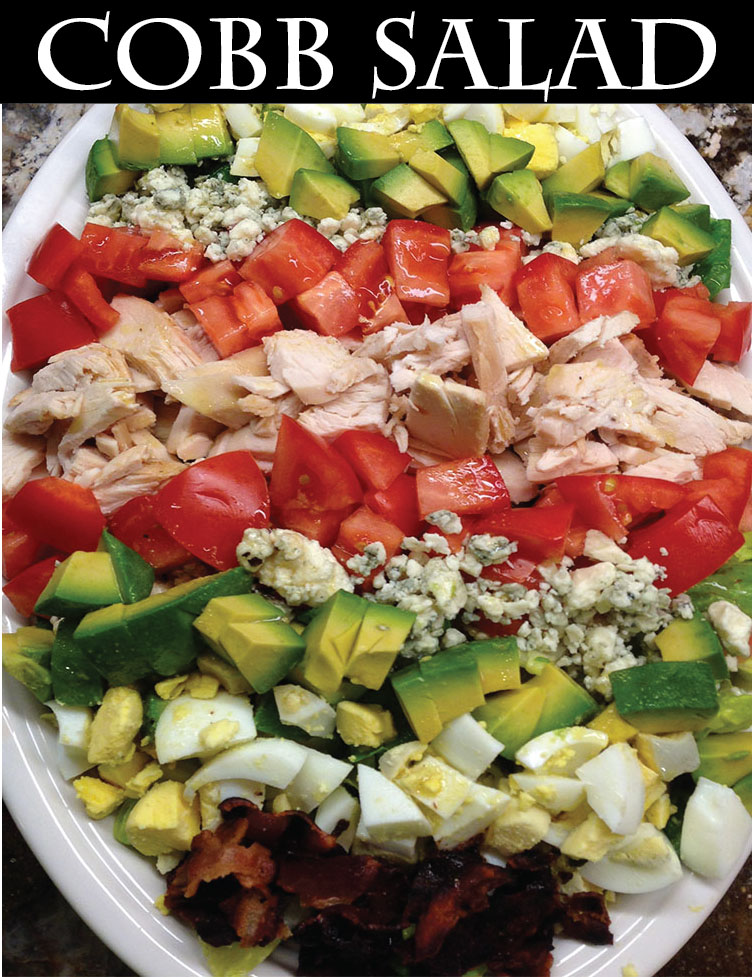 RECIPE
Ingredients
2 cooked chicken breasts, cut into bite-sized cubes
2 heads Romaine lettuce, washed and chopped
2 medium tomatoes, chopped
2 ripe avocados, diced
1/2 lb. bacon, cooked crisp
4 hard cooked eggs, diced
1/2 C blue cheese, crumbled
KO's French dressing, see below
Preparation
In a large bowl, toss the Romaine with some dressing to coat.  Place the dressed lettuce on a large platter.  Arrange the topping ingredients over the lettuce as pictured.  Top with more dressing.  Serve deconstructed or toss, as preferred.  Serve with Pumpernickel Cheese Toast, see below.
KO's French Dressing
Ingredients
1/2 C red wine vinegar
1/2 tsp. sugar
Juice of 1/2 lemon
1 tsp. salt
1/2 tsp. black pepper
1 T Worcestershire sauce
1 tsp. dry mustard
1/2 tsp. granulated garlic
3/4 C olive oil
Preparation
Place all ingredients in a pint jar with a top.  Seal and shake to a smooth emulsion.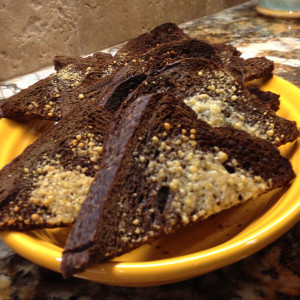 Pumpernickel Cheese Toast
Ingredients
Pumpernickel bread, thinly sliced
Olive oil
Parmesan cheese
Preparation
Place the thin slices of bread on a baking sheet.  Top with olive oil (or butter), then sprinkle with Parmesan cheese.  Place under a pre-heated broiler until browned and crisp.