What's the Salmon Capital of the World?
Ketchikan, Alaska
Superior salmon comes from Ketchikan, Alaska.  And local canners gladly ship their product for use in salads, soups and entrees.  Here's our version of White Bean and Salmon Soup.  If you don't like salmon, substitute cooked chicken or beef.
MAPPING THE DAY
There are no roads that lead the Ketchikan.  The only way in or out is by air or by sea.
LOCAL STORY
Touted as the "Salmon Capital of the World", we set out to find out why.  Our first stop was the local museum, filled with salmon fishing, packing and shipping lore dating back to the 1,800's.  We also learned that in addition to salmon, settlers went to Ketchikan for lumber and gold.
We then walked down to the rushing creek that lines the charming village filled with shops and restaurants.
On our way we saw glorious rhododendrons, totem poles (the world's largest collection) and distant views of snow-capped mountains.
VIEW FROM THE TABLE
In our meandering through the town, we happened upon a little dry goods shop on the outskirts of town.  The shops owners' family has fished and canned salmon in The Ketchikan area for four generations.  We tasted the fresh caught canned sockeye salmon and marveled at the flavor.  Sustainably caught in the icy Alaskan waters, we finally understood why they call it the salmon capital.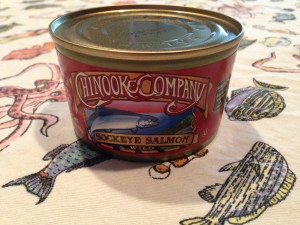 We ordered a case of Chinook & Company Sockeye Salmon to be shipped home.
WHITE BEAN AND SALMON SOUP
RECIPE