Grown Up Mac & Cheese Inspired by Quality Ingredients
Seattle, Washington
Mac & Cheese is all grown up with this recipe.  Quality ingredients like the nutty, cow's milk cheese from Beecher's in Seattle and fire-roasted Hatch Chiles inspire a unique combination.  The cheese melts perfectly into a creamy béchamel, then luxuriously coats each morsel of penne.  It is then spiked with roasted chiles, peppers and corn.
MAPPING THE DAY
Seattle was merely a quick stop for our Alaskan cruise in May.  We had been there many times before, so our tight schedule was limited to the airport and coach transit to the cruise ship.  No time for a Mariners game, downtown shopping or even a stop at Pike's Place Market.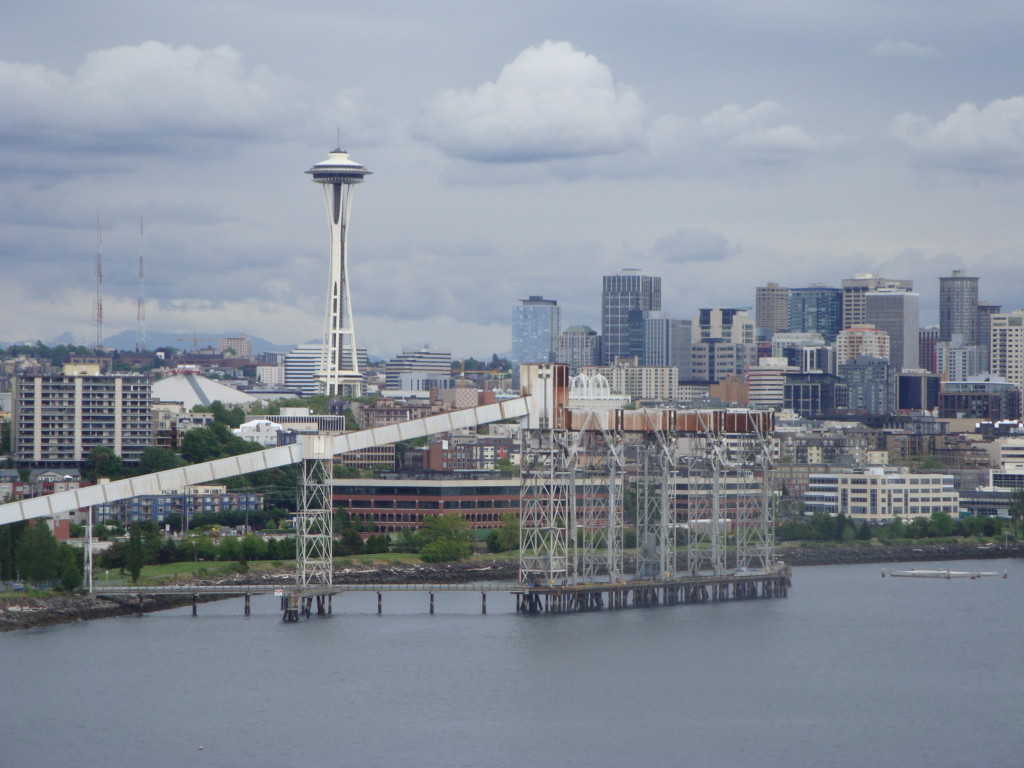 LOCAL STORY
The longstanding farmers market that overlooks the Puget Sound has always been our favorite destination in the Emerald City.  The market is filled with unique vendors who sell their made- or grown-in-the-Northwest goods. Fresh seafood and vegetables are a dream come true for Seattle-style cooking.  If only we had a local kitchen.  And a visit to Pike's Place is not complete without a stop at the corner cheese shop for cheese-making inspiration and a cup of melty macaroni and cheese.
VIEW FROM THE TABLE
Our cruise was now complete and we were back at SeaTac Airport.  Cruises notoriously require early rising on the last day, so a cup a coffee can be difficult to muster before disembarking.  By the time we had checked our bags and had been were through security, we were ready for a little something.  But ugh, airport food can be so awful.
Then we saw a culinary oasis.  Beecher's Homemade Cheese was right there in the airport scooping up its glorious Mac and Cheese.  We ordered two: original and a new "Mariachi" version.  Airport food has never been so good.
RECIPE
Grown Up Mac & Cheese with Fire-Roasted Hatch Chiles, Red Bell Pepper and Corn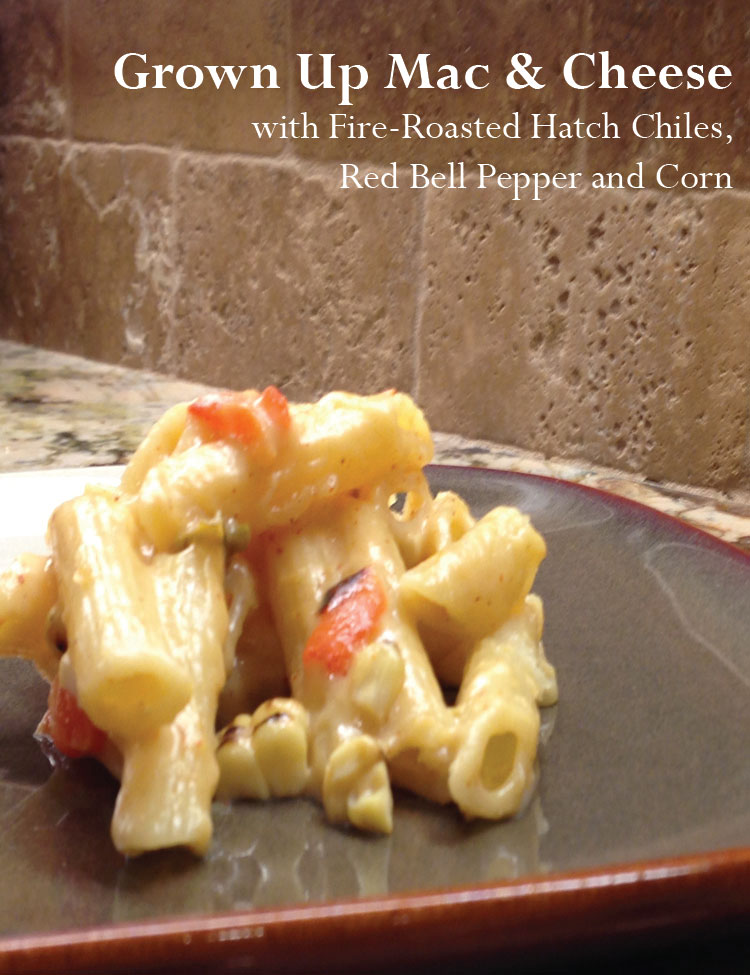 Printable recipe
Ingredients
2 T butter
3 1⁄2 T all‐purpose flour
1 1⁄2 C whole milk
2 C Beecher's Flagship cheese, grated (order it online or substitute cheddar)
1 tsp. salt
1⁄2 tsp. chili powder
1⁄2 tsp. garlic powder
8 oz. penne pasta
Salt
1/4 C fire-roasted Hatch chiles or canned green chiles, diced
1/4 C fire-roasted red bell pepper, diced
1 ear of corn, fire-roasted and kernels removed from the cob
Chili powder, to taste for topping
Preparation
To prepare the sauce, melt the butter in a heavy saucepan (we use Le Creuset) over medium heat and add flour. Wisk and cook for about 2 minutes. Slowly add milk, whisking constantly, and cook for about 10 minutes. It will thicken. Remove from heat and add cheese, salt, chili powder and garlic powder. Stir until the cheese is melted and the ingredients are incorporated. Add the chiles, bell pepper anSet aside.Preheat the oven to 350 degrees F. Grease an 8‐inch baking dish. Cook penne 2 minutes less than the package directions. Rinse the pasta in cold water to stop the cooking and drain well.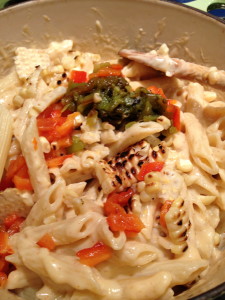 Combine the pasta and sauce and mix thoroughly. Pour the pasta and sauce mixture into the prepared baking dish. Sprinkle with chili powder.Bake uncovered for 20 minutes. Let stand 5 minutes before serving.