Farmers Market Day Trip
Miracle Mile/Fairfax District, Los Angeles, California
The renowned Farmers Market in the Miracle Mile/Fairfax District has long been a favorite day trip destination. It is a Los Angeles historic landmark since the 1930s.  On our recent visit, it afforded us lots of top quality ingredients for an easy grilling meal.
Mapping the Day
Los Angeles was a great place to live in the late 70s. I worked and lived in the Miracle Mile District then. I was a receptionist and then an account representative for a company on Wilshire Boulevard that provided wealth management services to Hollywood stars. It was particularly fun to work there because television and movie star clients would stop in to the office on any given day.
I didn't make much money, so I stayed close to home on the weekends. It was easy to find things to do. I could walk to the Los Angeles County Museum of Art, the La Brea Tar Pits, Hancock Park, the fabulous May Company Department Store and the Farmers Market at Third & Fairfax.
Local Story
K.O. and I recently took a day trip to my old neighborhood. The area has had some ups and downs since the 70s, but the charm is still there.  We of course went to the renowned Farmers Market. Just like the 70s, there are still quirky specialty stores juxtaposed with restaurants and quality food purveyors. We challenged ourselves to find the best ingredients possible for a quick and easy meal when we returned home that evening. Oh, we had some fun.

View from the Table
In the specialty grocery, we saw Goats Butter from England in the refrigerated case. Turns out, friends had recommended that very product and actually graciously gave us a package just the day before. That inspired us to make a compound butter with fresh parsley from our herb garden.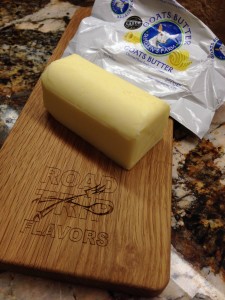 Next, we found the butcher. Boasting cuts of prime beef from California's Harris Ranch, we opted for the skirt steak. It is quick and easy to cook on the grill.
As we walked through the market stands, we could not pass up some fresh horseradish from Magee's. They have been kicking up the fresh condiment since 1917. It is so good, especially with grilled steak. On to the produce stand. We found amazing fresh black kale for one of our favorite salad recipes. We also bought some sweet grape tomatoes to grill for a side dish for a perfect menu.
Third & Fairfax Farmers Market Menu
Black Kale, Quinoa & Manchego Cheese Salad with Shallot Vinaigrette
Fire-Roasted Grape Tomatoes
Grilled Skirt Steak with Parsley Goat Butter
Grilled Skirt Steak with Parsley Goat Butter
RECIPE