Pier Dining on the Pacific Coastline
San Clemente, California
MAPPING THE DAY
Before we left for our European vacation, KO and I stopped by the pier in San Clemente for a quick lunch.   It was a perfect day with sunshine-filled sky, calm surf and 80 degree temperature.  We decided to  stroll down the long pier to peak our appetites prior to our meal.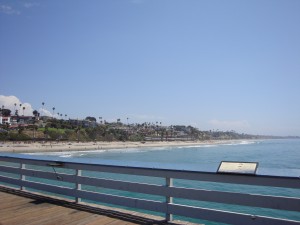 LOCAL STORY
It is an amazing feat that a wooden structure can jut out into the ocean.  Walk a few hundred feet and the waves crash right below you.  Beyond the breakers, it is really quite quiet on a calm day.  At the end of the pier, fishermen cast their lines, birds fly above and the view of the coastline is breathtaking.
VIEW FROM THE TABLE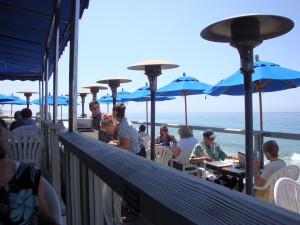 At Fisherman's Restaurant, diners can sit on an outside deck at the water's edge.  Picturesque and romantic, this dining venue is not to be missed.  At our table we enjoyed clam chowder, fish and chips and salmon tacos.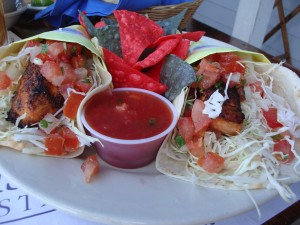 Everything was excellent.  Here is our version of the tacos using a sauce recipe from our friend Bob.
Salmon Tacos with Chipotle Tartar Sauce
RECIPE: Salmon Tacos
RECIPE: Sauce