What to Do on Sundays in Europe
Tongeren, Belgium
Mapping the Day
Sundays in Europe are family days.  Shops are closed, churches and festivals are open.  From our home base in the Mosel River area of Western Germany, we woke up early on a Sunday to the village church bells chiming.  Our hosts, my son David and his wife Kathee, packed up their BMW and escorted us to the famous Sundays-only market in Tongeren, Belgium about 2 1/2 hours from their home.
Local Story
The cobblestone streets and antique mall buildings were filled with hundreds of vendors selling their wares and food.  If one ever wanted to furnish an apartment for a bargain in Europe, this is the place to go.  Furniture, housewares and unique decor are displayed in booths throughout the downtown area of Tongeren.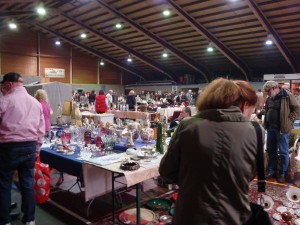 K.O. and I have talked for years that some day we would buy a set of antique copper pots.  We hoped to find them in a future trip to the markets outside of Paris.  As we walked the streets and buildings in Tongeren, we joked that maybe we would be surprised to find them that day.  Then we saw them!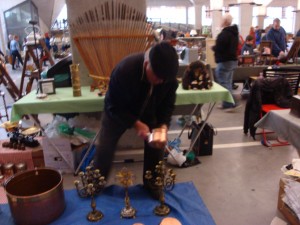 Sitting on a blanket in the middle of a flea market building, we found our copper pots.  K.O. negotiated a few Euro off the asking price and we gathered them up.  Treasures found!
View from the Table
Back at our home base in Germany, we admired our purchase of the day. David and Kathee offered to make a traditional German meal for dinner.  Sunday supper tables in Germany are often graced with a robust braised dish called Beef Rouladen.  Here is our version based on David and Kathee's wonderful meal that night.
German Beef Rouladen 
RECIPE