Farm to Pico-Tini Cocktail
Farm to Cocktail
MAPPING THE DAY
Farmers Markets are some of our favorite destinations on our RoadTrips and at home.  Colors, aromas, tastings, as well as passionate farmers, chefs and patrons all converge in one open air space.  As we walked through favorite Friday Farmers Market recently, we starting talking about how the Farm to Table concept is all the rage in the culinary world.  Then it struck us…. what about Farm to Cocktail?
LOCAL STORY
Since we make a lot of Mexican and Southwest-themed meals, homemade Pico de Gallo is often on our menu. Our Farmers Market shopping list usually includes tomatoes, onion, cilantro, jalepeno and lemon.  Here's a link to KO's easy and ever so delicious recipe: http://roadtripflavors.com/laguna-beach.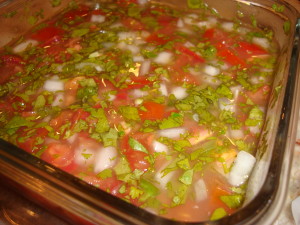 After the fresh Pico de Gallo is refrigerated for a few hours or up to a few days, luscious juice from the fresh tomatoes marinates with the other ingredients.  You can certainly serve Pico with the juice, but it is also a precious by-product for another use.
VIEW FROM THE TABLE
A cook's reward for going the extra mile to make fresh, homemade Pico de Gallo is the marinated juice.  Strain the juice from the Pico de Gallo bowl.  (K.O. recommends that you are certain no one has double-dipped in the Pico before you extract the juice.)  Grab a cocktail shaker, some ice and your favorite Vodka.  You are now ready to shake an amazing cocktail: The Pico-Tini.  Share the perfect potion only with your favorite sous chef.
K.O.'s Pico-Tini
RECIPE