Happenstance Delivers a Fanciful Evening in Heidelberg
Heidelberg, Germany
Dominated by a beautiful old castle, the Heidelberg skyline is filled with baroque style buildings.  It is located on the banks of the Neckar River and is commonly referred to as the jewel of Germany.
Mapping the Day
After a wonderful stay for a little over a week near the Mosel River in Germany, we departed from Wittlich train station.    We were headed for Munich, but had an extra day to get there.  So a logical half-way point to stop for the night was Heidelberg.  We made a hotel reservation in advance of our arrival, but had no other plans.
Local Story
At the Heidleberg train station, we saw signs advertising a local Fall Festival: Heidelberger Herbst.  An annual celebration, the festival was described as a celebration where everyone takes to the streets for food, music and drinks.   Then to our delight, we realized it was scheduled for that very afternoon and night.  We had just happened on the city's biggest festival of the year.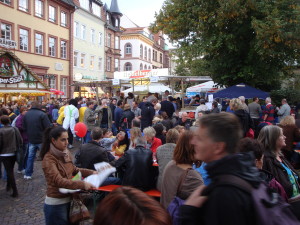 What fortune we had found by happenstance.  Hundreds upon thousands of people crowded the main shopping street of the picturesque city.  Bands were set up in every block on temporary stages.  There was a wide variety of music.  Ballroom dancers circled a stage to classical music.  American rock and roll filled huge areas of revelers. We were so intrigued that the Germans knew every word to our 80's rock favorites.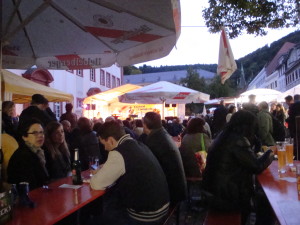 For several hours that afternoon and evening,  we wandered through local shops, bought goods from temporary booths and grazed on German street food.  We also sampled many German beers along the way.  We had a fanciful evening.
View from the Table
It was nearly 9:00 PM and we decided we needed a sit down meal to rejuvenate.  We walked down a quiet street and found an Irish pub.  Everyone in the bar was glued to the soccer game on the overhead TVs.  We sat down, ordered some beer and Fish & Chips.  Yes, amazing Fish and Chips in the middle of a German festival.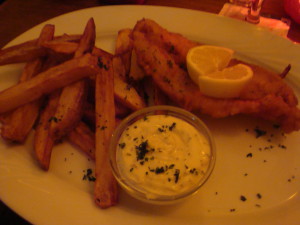 Fish and Chips
RECIPE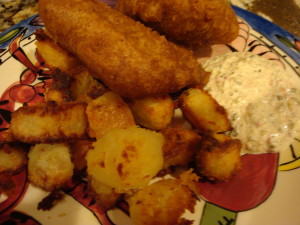 For tartar sauce, use Bob's Chipotle Tartar Sauce:
Printer-friendly recipe