What's in Your RoadTrip Tool Kit?
New Bedford, Massachusetts
Mozambique Sauce is a popular Portuguese dish.  It was developed in Portuguese cuisine when 15th century explorers ventured to countries in Africa.  They learned about the use of "piri piri" or peppers from local tribes in Mozambique, which led to the creation of this unique sauce.
MAPPING THE DAY
Even in the age of iPhones, GPS mapping, Yelp, AFAR, TripAdvisor and Eater National, our RoadTrip Tool Kit always includes the old school Tour Book and printed maps from The Auto Club.  Yes, these two globetrotting bloggers like the feel of a printed travel guide in our hands and the rustle of a big paper map in the front seat.
LOCAL STORY
We left the tip end of Cape Cod at around 11 am and were headed for Newport, Rhode Island.  We had nothing planned for the day.  We just meandered along the highway and stopped on a whim.  We found amazing views of the eastern shoreline, a wholesale spice purveyor and imprinted t-shirts for family members back home.  As we left Cape Cod, we had it in our minds that we should drive through Fall River.  There was really no reason to go there except that Emeril Lagasse often spoke of his upbringing there and the amazing food prepared by his Portuguese mom.  But, our hunger pangs accelerated our need to find a good restaurant before getting to Fall River.  The freeway signage announced that New Bedford was just five miles away.  KO opened the Tour Book and saw:
Antonio's Restaurant & Cafe     New Bedford, MA    Cuisine: Portuguese
Popular with locals, the reputable restaurant is busy, particularly on weekends. Its energetic mood feels like a party looking to happen. The menu lists a good variety of traditional Portuguese dishes, most incorporating fresh local seafood, along with some American standards. Only cash is accepted, but they do have an ATM on premises. The enormous portions are great for sharing. The homey main dining room only hints at Portuguese culture, but you'll hear the language being spoken.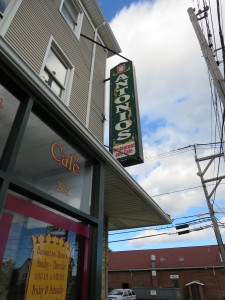 VIEW FROM THE TABLE
We were seated in the dining room, now vacated after the lunch rush.  Our server was a long-timer there and offered help with the menu.  "Have you ever tried Mozambique Sauce?," she asked.  Our puzzled looks triggered a quick response from her.  "Just wait, I will bring you a taste with some fresh bread."  A gravy boat filled with the rich sauce was placed in front of us.  We dipped our bread and slurped up the unique sauce goodness.
We ordered Chicken and Shrimp in Mozambique Sauce along with Portuguese Kale Soup.  What a wonderful meal.  As we finished, our server came back to the table.  KO said "we need to know how to make this." She gave a slight smile and raised her eyebrow, then cleared our plates.  A few minutes later she came back and handed KO a small spice package.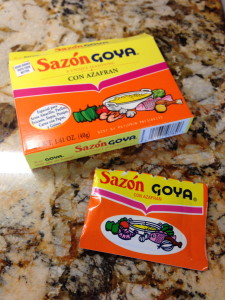 "You will need this, along with onion, garlic, some beer, Frank's Red Hot Sauce and butter."
We have been testing our version of Mozambique Sauce since we returned home from the East Coast.  Enjoy!
CHICKEN AND SHRIMP IN MOZAMBIQUE SAUCE
RECIPE