Travel to Munich in Early Fall, Enjoy Bavarian Beer and Cuisine
Munich, Germany
Beer and brats lunch at Spatenhaus was our best meal in Munich
MAPPING THE DAY
Traveling to Munich in early Fall is a perfect time to visit.  Crisp, cool air was comfortable for walking.  Throughout the city, the tree leaves were just starting to turn colors.  There were crowds in the Hauptbahnhof and Oktoberfest grounds, but travel was easy throughout the center of Munich.
LOCAL STORY
Our day in the city center was filled with the sites and pleasures of Munich:  Marienplatz, Englisher Garden, the pedestrian zone shopping street, Viktualienmarkt (outdoor market), the Glokenspiel tower, cathedrals and, of course, Bavarian beer and cuisine.
Munich is sophisticated, cosmopolitan, clean, historic, beautiful, safe and full of Bavarian flavors.
VIEW FROM THE TABLE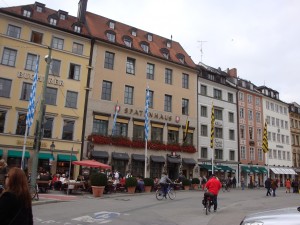 After walking for hours, we wanted a quiet place to sit and dine.  Spatenhaus appeared in our walk, so we entered for a late lunch respite.  We were whisked to a private booth, and in typical German service, were immediately asked for our order.  To Americans, German servers may seem gruff or hurried, but we try to go with the flow as visitors in other countries.  We asked for forgiveness of time and ordered two 1/2 liters of Spaten beer in broken German.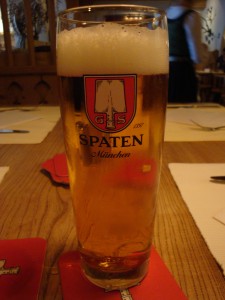 Later we ordered a bowl of vegetable soup and a plate of Bavarian sausages to share.  Refined and complex, this was our favorite meal in Munich.
Bavarian Bratwurst in Beer Mustard Sauce with Caramelized Onions and Caraway Potatoes
RECIPE