Today is Eat Beans Day: Combine Them with Fresh Veggies for a Healthy Side Dish
Sedona, Arizona
MAPPING THE DAY
Do you support your local farmers and take advantage of the freshest offerings available at your neighborhood Farmer's Market?  Not only do you find fresh and organically grown ingredients, but you can talk with farmers, other home cooks, foodies and even an occasional local chef.
LOCAL STORY
On the road out of Sedona last week, we happened upon a Farmer's Market with local Arizona crops.  Tomatoes, zucchini, Mexican squash and yellow squash, picked at the peak of freshness, were offered in this early Summer season.  Look at the beautiful red, green and yellow colors!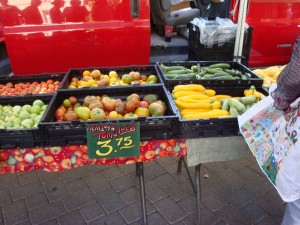 We have been testing our recipe for some Calabacitas,  a combination of fresh zucchini, yellow squash, onions and of course, green chile. (It's a New Mexican cuisine specialty.  Watch for our recipe coming soon.)
VIEW FROM THE TABLE
After a long RoadTrip to Arizona and New Mexico, my view of the table is a little farther than it should be.  Yes, I may have gained a few "L-B's".  In order to get my view of the table a little closer, I am eating plenty of fruits and vegetables.  So in honor of Eat Beans Day and taking it easy on calories, here's our version of White Beans and Red Chard.
White Beans and Red Chard
RECIPE