'Tis the Season for Tamales: An Individually Wrapped Gift of Goodness
Los Angeles, California
Tamales are a seasonal offering at many restaurants, specialty stores and Mexican food stands at Christmas in Southern California.  In addition, ingredients for making them from scratch are readily available in grocery stores.  Whether bought pre-made or made at home, tamales are a perfect package of flavor for a casual holiday meal.
Mapping the Day
As a college student in Los Angeles, I did not dine out very often.  On occasion my cohorts and I would splurge with a meal at "The Original" El Cholo Spanish Cafe on South Western.  Established in 1923, El Cholo is a Los Angeles institution.  Today there are several El Cholo locations in the Southern California area (www.elcholo.com).  There I had my first bite of a real tamale.  Made from fresh masa and savory pork, their fresh tamales are steamed to perfection for fluffy corn goodness and topped with a warm mole.
Local Story
After living in Southern California for more than 30 years, we have adopted the tradition of making homemade tamales each Christmas season.  With many helping hands for mixing, wrapping and tying tamales, the labor of love is a festive holiday project together.
View from the Table
Recipe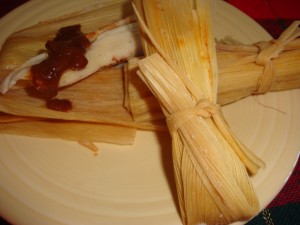 Yucatan Pork Tamales with Red Chile Sauce
Printer friendly recipe
Ingredients
1 package dried corn husks
2/3 C lard
4 C masa harina
3 C beef or chicken broth
2 tsp. salt
1/3 C lard, melted
Filling: Yucatan Pork (see below)
Alternate Filling: Green Chiles (diced) and Monterey Jack Cheese (sliced)
Sauce for Topping: Red Chile Sauce (see below)
Preparation
Soak the corn husks in a bowl of warm water.  Place the lard in a standing mixer bowl, beat the lard until fluffy.  Combine the masa harina and salt.  With the mixer running, add 1 C of dry mixture, then 2/3 C broth, mixing well after each addition.  Alternate ingredients until all is incorporated.  Gradually beat in 1/3 C melted lard, mixing to consistency of thick cake batter.
Place a soaked corn husk on a board, spread about 2 T of masa batter onto the husk, add 1 T filling or into the center.  Fold the sides of the husks, turn up one end and tie with a corn husk strand.  Set up a steamer pot, so boiling water level is below the steamer rack.  Steam the tamales for 2 1/2 to 3 hours.  (Note: Add more water to the pot over the cooking time.  Do not allow the water to dry up.)
Serve with Red Chile Sauce.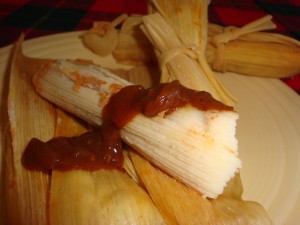 Yucatan Pork
Ingredients
Note: This is our recipe originally for Yucatan Pork Tacos.  Cut the recipe down to 25% (about ½ lb. pork tenderloin) for this tamale recipe.
For the marinade, in a glass mixing bowl combine: 2/3 C freshly squeezed orange juice
2 T Achiote seasoning (available in Mexican markets or online. There is no substitute for this ingredient, so be sure to find some before making this recipe.)
2 tsp. dried oregano, (we prefer the Mexican variety)
3 T cider vinegar
2 tsp. garlic powder (use fresh garlic, if preferred) 1 tsp. salt
1 tsp. black pepper
2 lb. pork tenderloin, cut into 2″ cubes
Preparation
Add the pork to marinate in the refrigerator for at least 4 hours, preferably more
2 1 lb. pork tenderloins, cut into 2" cubes
Transfer the pork and marinating liquid into a heavy Dutch oven. Bring to boil and reduce to simmer for 2 hours.
When cooked, shred the pork pieces with a fork.
Red Chile Sauce
Ingredients
2 T oil
1 small white onion, chopped finely
1 clove garlic, minced
1/2 C ground New Mexico red chile
2 C chicken broth
Salt and pepper
2 T corn starch dissolved in 2 T warm water
Preparation
Heat the oil in a sauce pan over medium heat and add the onion.  Sauté for 5 minutes and add the garlic.  Sauté another 2 minutes.  Add the chile and mix into the onion and garlic.  Add the chicken broth and stir continuously until well incorporated.  Bring it to a boil and reduce to simmer.  Add the cornstarch slurry to thicken the sauce.  Cook for about 10 minutes.  The sauce will coat the back of a spoon.