Three "Small Plates" for Easy Valentine's Day Menu: Part 1
Munich, Germany
Munich, Laguna Beach and our childhoods inspired us for our three "small plates" menu for a romantic Valentine's Day meal.  All three plates are very easy to prepare.  The rich red hues of fresh vegetables, seafood and fruit will tempt your appetite on Cupid's Day.  The second and third recipes will be posted this week.  Subscribe to our email newsletter and we'll send you a shopping list for the entire meal.
Mapping the Day
We arrived in Munich the night before.  Our exploration of the city began that morning at the Englischer Garten.  It is a large public park in the center of the city that stretches nearly 1 ½ square miles.  Wide open grassy spaces are framed by wooded groves, walking/bike paths and a heavily flowing stream.
Even on a work day, it was filled with people strolling, riding bikes, playing with children and walking their dogs.
Local Story
The flora and fauna are accented by monuments, unique architecture and several biergartens.  We walked for over an hour and found the Chinesischer Turm (Chinese Tower).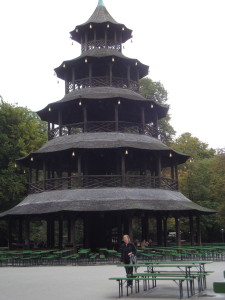 It is surrounded by tables and chairs that accommodate 7,000 revelers in an outdoor beer garden.  The Germans enjoy their beer and drinking it together.
View from the Table
Just beyond the Chinese Tower, there are several food stands with outdoor seating.  It was already filling in for the lunch rush.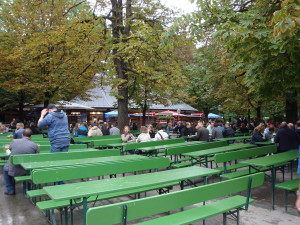 Professionals, students and tourists all assembled in the middle of the beautiful setting, even in the crisp Fall air, for traditional German dishes.  In addition to wursts and pretzels, we saw diners enjoying pickled beets and onions.  It was too soon after our hotel breakfast to eat, but we kept it in our memories for something to try in our own kitchen.
Recipe
Combining our dining experiences in Germany with some tavern food we have tried in the United States, we experimented with pickling beets, onions and eggs.  What we found is that in the process of pickling the beets, the robust red hue colors the pickling liquid and anything else in the pickling jar.  There is nothing more beautiful than beet-colored eggs.  And, they taste great too.
Small Plates for Valentine's Day
Pickled Beets and Eggs
RECIPE
For a salad, quarter the pickled eggs.  Place the pickled beets, eggs and onions on individual salad plate.  Dress the greens with a light vinaigrette in a separate bowl, then place a serving in the center of each salad plate.  Re-season with salt and pepper.  Serve with bread or potato pancake on the side.