They Know How to Make Sundays Special
Red Bank, New Jersey
MAPPING THE DAY
We had been in Manhattan for the weekend and left the city in the early afternoon on a Sunday headed for New Jersey.  Red Bank is located on the southern bank of the Navesink River and a little over an hour's drive south of New York City.
LOCAL STORY
Red Bank is a small town and the home of the late Count Basie (one of my dad's favorite jazz pianists and bandleaders).   We found the town absolutely charming with wonderful river views, friendly people and gorgeous neighborhoods to drive through and live in vicariously.   It is surprising that the quiet suburb has a Tiffany jewelry store in its downtown area.  It just seemed to be an unlikely place for the high-end store. We did not have much time to explore, but we would gladly travel to Red Bank again.
VIEW FROM THE TABLE
Since we arrived to our hotel, the Molly Pitcher Inn, in the late afternoon and were working early the next morning, we decided to take the hotel concierge recommendation to walk to a local restaurant a few blocks away.  Basil T's Brewery and Italian Grill (www.basilt.com) is family owned and operated.
We walked in the door and immediately felt like we were in Italy.  Baskets of fresh tomatoes boast an eye-popping bright red as they ripen naturally in view of restaurant patrons.  The restaurant prides itself on using fresh local ingredients.  We were seated in a quiet dining area for a leisurely meal.
The menu is filled with authentic Italian dishes, but one in particular intrigued me that evening:
Sunday Sauce (only Sundays)
Homemade bracciole, Italian sausage, meatball with house made rigatoni.
The surprises of the dish still linger in my memory… tender beef wrapped around a savory bread stuffing, robustly spiced Italian sausage and a baseball-sized meatball all cooked in the homemade Sunday Sauce.
Here's our version of the Basil T's specialty:
Sunday Sauce, Stuffed Beef Bracciole and Meatballs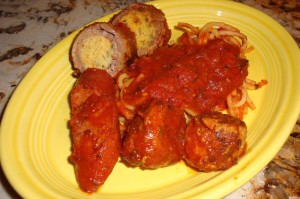 Sunday Sauce
RECIPE
Beef Braccioli
RECIPE
Homemade Italian Meatballs
RECIPE