Let the Wind Blow You from One End of Mykonos to the Other
Mykonos, Greece
MAPPING THE DAY
As a child, I always associated windmills with Holland.  I did not expect to see them on the island of Mykonos, Greece.  However, as we stepped onto the island, the wind was fierce.  In the distance, we could see the windmills on the hill were spinning with fervor.  Turns out, we learned that the first "windwheel" known to man was built by a Greek engineer, Heron of Alexandria, in the 1st century AD.  It makes sense that Mykonos has windmills and the town is a labyrinth of narrow streets surrounded by whitewashed buildings to protect it from the wind blowing off the Mediterranean Sea.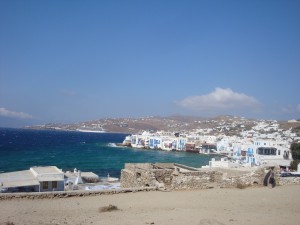 LOCAL STORY
Our exploration of the island took us through the tight streets where merchants display their local wares.  Outdoor patio restaurants lure visitors in with showy spits of marinated meats and the aroma of lemons, oregano, garlic and open air cooking.  Colored doors distinguish one white residence from another.  Feral cats relax in the warm sunshine in passages protected from the wind.  Our leisurely walk was often disrupted by locals on motorcycles and small vehicles passing through the small streets.  The cruise ship and ferry boat crowds are an inconvenience, but also a steady source of revenue to the citizens of Mykonos.
VIEW FROM THE TABLE
We asked a young local shopkeeper to recommend her favorite place for authentic gyros.  She pondered it for a few minutes and then sent us to Sakis.  "Go up this way, turn left at the bank and it will be on your right," she said in her best English.  How lovely that she gave us such care.  We made our way to the little white and blue-painted restaurant.  What a wonderful recommendation she made.
Deep marinated chicken is cooked to crispy tenderness on the spit.  It is carved off and placed in a flatbread.  The bread is thicker and more flavorful than our pita bread in the USA.  It is then dressed with tomato, red onion, yogurt sauce and two long crispy French fried potatoes.  All wrapped in a paper to hold it together, it is a Greek work of art.  Each bite was flavorful, crispy but soft, and just delicious.  We sat at an inside wooden table to watch the busy counter and mostly local patrons.  The sandwich was only improved by the Greek-brewed Mythos beer, served ice cold in the bottle.
RECIPE
We are not set up in our kitchen to even come close to the Greek style of cooking.  We opt to using our Big Flavor Roasted Chicken (http://roadtripflavors.com/2011/09/03/big-flavors-from-the-big-state/).  We add spices to give the cooked chicken Greek flavors.  The key ingredient for me is the Tzatziki and the combination of fresh ingredients.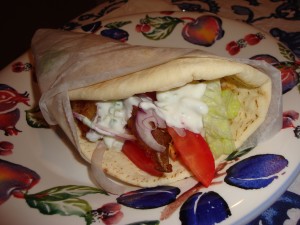 Greek-Spiced Chicken Gyros
RECIPE
Tzatziki
RECIPE