Thanksgiving Turkey: RoadTripFlavors-Style
Mission Viejo, California
RTF Thanksgiving Part 2 of 5: Yes, we know that much of the United States is covered in snow and temperatures are bitterly cold. It is not our intention to rub it in, but here in California it is sunny and still in the 70s during the day. That's why grilling for Thanksgiving is part of the RoadTripFlavors style. There is nothing like an outdoor barbecue in November to give turkey a delicious boost of flavor.
Mapping the Day
There is a distinct aroma that wafts through the air near a smokehouse. Whether in Memphis or Las Vegas, Dallas or Key West, Belton or Cayucos, smoked meat and fish specialties are always on our radar.
This long-lived cooking method holds an important role in many regional cuisines. Smoking techniques date back thousands of years. It is a way to preserve in lieu of refrigeration.   While it is always great to have a stash of beef jerky in the carry-on bag, the benefits of flavor that smoke imparts far outweigh the preservation qualities for these 21st century road warriors.
Local Story
RTF Favorite American Smoked Meat & Fish Purveyors (So Far)
(Note: this is by no means a heavily researched list of smokehouse purveyors. These are places that we have visited in our travels that offer stand-out products. If you would like to recommend your favorites, by all means leave a comment, so we can put them on our bucket list.)
Cattaneo Bros. in San Luis Obispo, California for Beef Jerky and Smoked Beef Sticks
Carles Vergo's Rendezvous in Memphis, Tennessee for Charcoal Pork Ribs
Canter's Deli in Los Angeles, California for Pastrami on Rye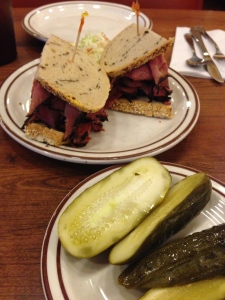 Rudolph's Market in Dallas, Texas for Smoked Sausage
Schoepf's Bar-B-Que in Belton, Texas for Smoked Brisket
John Mull's Meats & Road Kill Grill in Las Vegas, Nevada for Tri-Tip
Ruddell's SmokeHouse in Cayucos, California for Smoked Albacore Tacos
NOLA in New Orleans, Louisiana for Smoked Andouille Sausage in the Gumbo
No Name Pub in the Florida Keys for Smoked Fish Dip
Pike Place Fish Market in Seattle, Washington for Smoked Salmon Candy
View From the Table
Smoking in our backyard happens in an inexpensive Weber grill. Here's our step-by-step guide to grill smoking.
Build two piles of charcoal on the sides of the kettle.
Place a foil drip pan in the center of the kettle between the two piles of charcoal. Light the charcoal.
Place the grilling grate inside.
Once the charcoal is fully lit, cover with the kettle top. Adjust the vents top and bottom to render an interior temperature of 250 degrees F.
Place the meat on top of the grate in the center of the kettle for indirect heat.
Once everything is in place, add water-soaked wood chips to both piles of charcoal.
Cover and let it smoke away.
Check the internal temperature of the meat with a digital thermometer to ensure correct doneness.
This is Part 2 of RTF Thanksgiving recipes.  Here's the full
RTF Thanksgiving Menu
Smoked Turkey with Homemade BBQ Sauce
Sweet-Hot-Kissed Roasted Carrots
Roasted Brussels Sprouts
Roasted Beets with Vinaigrette and Toasted Sunflower Seeds
Smoked Turkey Breast
RECIPE