Southwest Flavors on the Grill for Thanksgiving
Southern California
The more we eat peppers, the more we want them.  So why not spice up Thanksgiving with Southwest flavors and a little smoke?  Fresh ingredients like sweet potatoes, zucchini and Mexican squash, tomatoes and even turkey are enhanced by the heat of peppers.  Enjoy turkey and all the fixings … Southwest style.
Mapping the Day
Here it is the middle of November and we in Southern California are looking forward to Thanksgiving Day temperatures in the mid 70's F.  It is still grilling weather here, so we are firing up the Weber grill.  A Southwestern-spiced Thanksgiving meal is on the menu this year.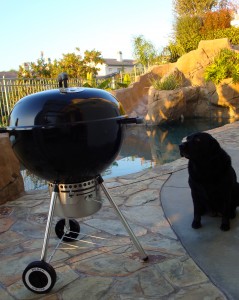 Local Story
Embracing the local flavors of our New Mexico, Arizona and Southern California travels this year, our Southwest Thanksgiving menu stars fresh ingredients punctuated with the heat of peppers.
Slow Smoke Roasted Southwest Spice-Rubbed Turkey Breast
Tomate Fresco Salsa de Chipotle
New Mexico Calabacitas
Cranberry Apple Cumin Waldorf
Chipotle Sweet Potato Mash
View from the Table
In celebrating with family and friends at the Thanksgiving table this year, it is also a time to remember we are thankful for all of our many blessings.  I am praying for peace throughout the World, the men and women who serve our country in the military as well as their families who wait for their safe return.  We are very thankful.
Slow Smoked Roasted Southwest Spice-Rubbed Turkey Breast
RECIPE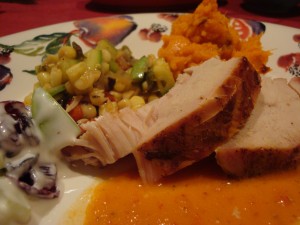 Tomate Fresco Salsa de Chipotle
RECIPE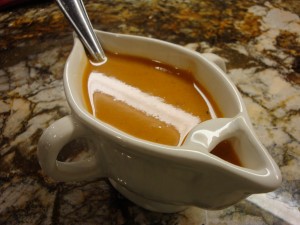 New Mexico Calabacitas
RECIPE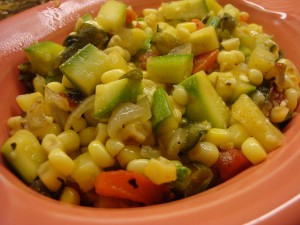 Creamy Cranberry Apple Relish
RECIPE
Chipotle Sweet Potato Mash
RECIPE