Relaxation is the Key
 Key West, Florida
Mapping the Day
Key West is an ideal vacation destination for complete relaxation.  Sun-filled views, palm trees, slower pace and gracious people bring the island laid-back lifestyle into focus. Leisurely days are filled with tropical activities, shopping and dining.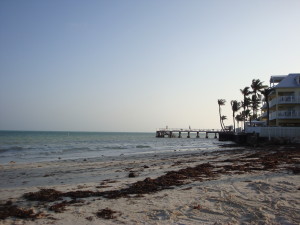 Local Story
Here are some of our favorite Key West pastimes for relaxation:
1.  Attitude Adjustment with a View.  Whether you choose a poolside lounge chair, barstool at an iconic bar, sunset cruise or restaurant table for two, Key West offers unending opportunities for enjoying a cold drink and a view of the water's edge.
2.  Snorkeling Day Trip.  There are many tour operators to get you out on the water for snorkeling, fishing and cruising.  It is so beautiful and an enjoyable way to spend the day.
3.  People Watching on Duval Street.  Visitors are known to get a little loose in Key West.  Walk down the main shopping, dining and bar-hopping street for rich people watching.
4.  Hot Sauce Tasting.  There's a hot sauce tasting room on Greene Street called Peppers of Key West (view their Pepper Cam at http://peppercentral.com/blog/pepper-cam).  From mild to super hot, tasting is a great deal of fun.  We even bought a beer at the bar next door and enjoyed it during our tasting to help cool our palettes.
4.  A Beer at Hogs Breath Saloon.  At this famous Key West watering hole, they say that "hog's breath is better than no breath at all".  We particularly appreciate the slogan perspective.  Life is good.
View from the Table
We have dined all over the island, but Louie's Backyard on Waddell truly captures the Key West experience for us.  An oceanfront Victorian home is artfully converted to a lovely restaurant where Caribbean-inspired dishes are served.  You can also head out the the back deck for ocean view drinks.  We both enjoyed fish specials of the day. Here's our version of a Louie's Backyard-inspired menu.
Yucatan Baked Grouper with Mango Salsa
RECIPE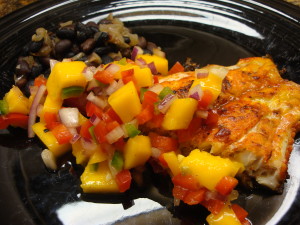 Mango Salsa
RECIPE