Red, White and Blue Burger
Marin County, California
MAPPING THE DAY
If you are staying in San Francisco, venturing across the Golden Gate Bridge into Marin County is a splendid day trip.  There are several State Parks, charming small towns with restaurants and shopping, beautiful coastline, a coastal wetland and beautiful open hills where cows graze.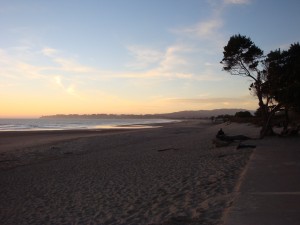 On one of our day trips from the City, K.O. and I traveled north to Stintson Beach and Point Reyes Lighthouse.  Point Reyes is the windiest place on the Pacific Coast.  It is also a very foggy place. The historic Point Reyes Lighthouse in its more than one hundred years of operation warned mariners of dangerous conditions and rugged coastline.
If you are willing to climb down and then up 308 steps each way, you can tour the lighthouse and witness the marvels of this treacherous Coastal vantage point.  It's worth it!
LOCAL STORY
The round trip from San Francisco to Point Reyes and back is about 88 miles.  Until a couple years ago, there was actually a second Izzy's Steak and Chop House in Corte Madera that lured me on my way back to the City.  This location has actually closed now, but my last visit was worth noting and lent incentive to develop a worthy recipe in its honor.
VIEW FROM THE TABLE
Instead of my usual Steak with Peppercorn Cream Sauce and Izzy's Potatoes, I opted for a less-filling meal: The Wedge Salad.  The iceberg lettuce salad was served ice cold with the creamiest of blue cheese dressings.  It was topped with bacon and red onion.
RECIPE
In our Creamy Blue Cheese dressing, we have created a rich and tangy flavor.  We use high quality double cream blue cheese from our local butcher shop.  And not only in recognition of Memorial Day, but also National Hamburger Day, we created a Red, White and Blue burger that incorporates the Wedge salad ingredients.
Red, White & Blue Burger
RECIPE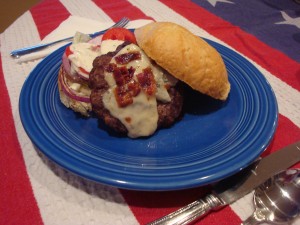 Creamy Blue Cheese Dressing
RECIPE