Albondigas Soup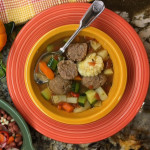 Yield

Prep Time

6

servings

20

minutes
Yield

Prep Time

6

servings

20

minutes
In a large stockpot, heat the olive oil on medium and add the onion. Cook for 5 minutes, then add the garlic. Cook for another minute.

Now add the remaining soup broth ingredients. Heat to boil, reduce to simmer. Note: the small diced zucchini will cook down to enhance the texture of the broth. Simmer about 30 minutes.
While the broth is simmering, prepare the meatballs. Place the breadcrumbs in a small bowl and mix with the milk. Let stand for 10 minutes.

In a large bowl, crack the egg and beat. Now add the ground beef and spices. Mix to incorporate completely. Add the breadcrumb/milk mixture and the cooked rice. Mix completely.

An optional step is to heat a small skillet on medium and place a tablespoon of the meat mixture in it to cook a taster portion. Once cooked, taste and adjust seasonings.

Form 1 1/2 inch meatballs. Add raw meatballs to the boiling soup broth. Simmer for 30 minutes.
Now that the soup broth is full of flavor and the meatballs are cooked, add the prepared soup vegetables. Simmer for another 30 minutes until the vegetables are cooked tender.