Munich Oktoberfest: Beer, Food and Revelry
Munich, Germany
At Munich Oktoberfest, beer, food and fun are celebrated.  Locals and visitors alike dress in traditional Oktoberfest garb to partake in beer drinking, eating and singing together.  Outside are carnival rides, food vendors, shops and Bavarian souvenirs.  Inside the beer tents are hundreds of tables and benches packed with beer drinking revelers who sing to traditional German music as well as American rock oldies.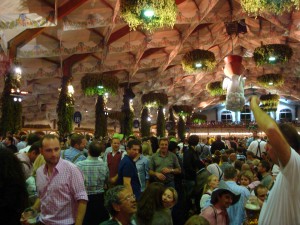 There are six breweries featured at the annual festival: Lowenbrau, Hofbrauhaus, Augustierbrau, Paulaner, Spaten and Hacker-Pschorr.  The brews must be produced within Munich city limits to be served at Oktoberfest.  The pride for brewing and beer is demonstrated in the pomp and circumstance all around the event, including horse-drawn beer carriages decked in branded tackle for each brew house.
Whole grilled fish on a stick, weisswurst, bratwurst, rotisserie chickens, sauerkraut, roasted pork, curry wurst and, of course, soft pretzels are wonderful complements to Munich-brewed beers.  The hearty cuisine also helps stave off over indulgence, well perhaps for some.
If you are lucky enough to find a bench to stand on (not sit) and order a liter, Oktoberfest becomes a happy singfest.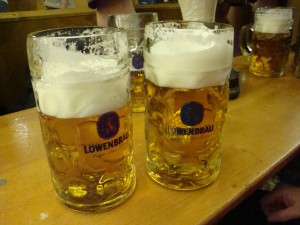 We met friendly beer drinkers from all over the world.  We had a great time at Oktoberfest Munich.
Prost and enjoy a pretzel!
Here's our version of the ultimate beer drinking food.
Beer-Drinkers Soft Pretzels
RECIPE