Lighter Burger, Full of the Flavors of Athens
Athens, Greece
MAPPING THE DAY
In Athens, we spent the morning at the Parthenon.  It is regarded as an enduring symbol of Ancient Greece and one of the world's greatest cultural monuments.  Magnificent stone columns jut high into the blue sky.  It is a wonder that the structure, completed in 438 BC,  is still standing.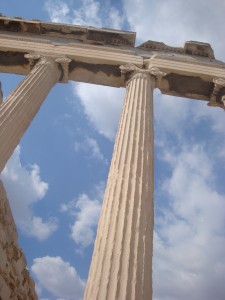 LOCAL STORY
Perched on the "acropolis" or "extremity of the city", the Parthenon is visible throughout the city.   There are excavation sites all around the city as well.  Ancient treasures peek up through the earth just waiting to be discovered.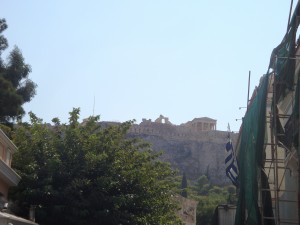 Many of our co-travelers from the morning tour were frightened by the stories of Greek unrest.  We decided to leave the tour bus, walk through the shopping center, take in a typical Greek lunch and make it back to the port on our own.
VIEW FROM THE TABLE
We were drawn to an outdoor patio full of diners.  Most were locals speaking their native language.  Just listening, we could pick out a few words.  After all, many English words come from Greek roots.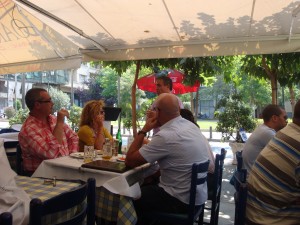 Our discovery at this meal was wonderful Greek pita.  It is thicker and more doughy than typical pita in the United States.  It wraps meat, lettuce, tomato and onion and Tzatziki with a warm embrace.  So satisfying.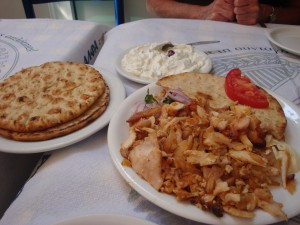 Greek Turkey Burger
RECIPE