Ahi Tuna Burger with Tangy Tartar Sauce
Gig Harbor, Washington
MAPPING THE DAY
The landscape of Northwest Washington State is punctuated by Puget Sound waterways.  From Deception Pass near Whidbey Island in the north to Olympia in the south, Puget Sound is a system of interconnected marine waterways.
Just 35 miles from the SeaTac Airport is a cozy little town called Gig Harbor.  It boasts waterfront proximity with small town appeal.  If you are staying the Seattle area, it is an easy day trip destination for spectacular scenery and memorable lunch.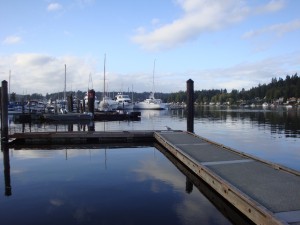 LOCAL STORY
K.O. and I completed a design job in Olympia ahead of schedule, so on our way back to the airport we took a detour west from Interstate 5.  In just six miles, State Route 16 takes you over the Tacoma Narrows Bridge and into the town of Gig Harbor.  It is charming and relaxing.
We walked the waterfront boutiques, galleries, book stores and shops.  Then we found a locals favorite restaurant for lunch at the southeastern end of town.  Tides Tavern has it all for a perfect lunch: view, atmosphere and great food.
VIEW FROM THE TABLE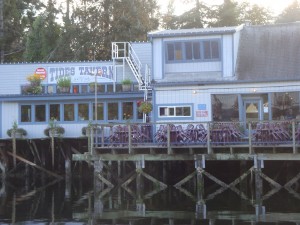 Tides Tavern welcomes you with warm wood planked floor, spectacular views of the water from practically every table and the aroma of the enticing tavern menu.  We ordered their renowned clam chowder and split an Ahi Tuna PoBoy with Fries.  Here's our version of a classic Puget Sound lunch.
Ahi Burger
with Tangy Tartar Sauce
RECIPE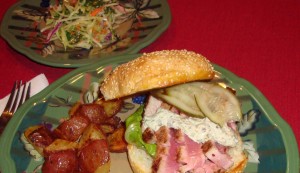 Tangy Tartar Sauce
RECIPE