Italy in Our Kitchen
MAPPING THE DAY
Traveling through Italy, we have tasted and appreciated the flavors of well-crafted pasta dishes. Typically the pasta is not drenched in heavy sauce. It is a marriage of sauce and pasta tossed to one perfect union.
LOCAL STORY
We have owned our Imperia Pasta Machine for years. Neither of us can really remember where we bought it. For long periods, it sat unused in our kitchen storage. What a shame. It is the ideal kitchen appliance that does its specific job flawlessly.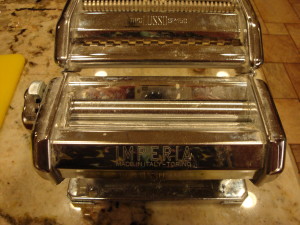 It is made in Italy of heavy steel. Gears are turned by a hand crank. With each adjustment of the rolling arms, pasta dough is transformed to the desired thickness. There are also two cutters for spaghetti and linguini. As we feed the dough through each step, the perfect pasta product emerges on the other side.
VIEW FROM THE TABLE
Once we mastered the process, fresh pasta production is our preferred ingredient. Yes, opening a bag of dried pasta is much faster and easier, but the taste pales in comparison.
An Imperia Pasta Machine is recommended for this recipe.
Homemade Pasta
RECIPE