Fresh Seafood Off the Boat Yes, But We Leave Fishing to the Brave
Dana Point Harbor, CA
MAPPING THE DAY
All along the Pacific Coast, there are purveyors of fresh seafood.  From Pike Place in Seattle to the San Diego Waterfront, fish mongers offer a bounty of local catches in season.  Yes, fresh seafood is available at any supermarket these days.  But it is particularly intriguing to go to the coast, see the fishing boats, smell the salt air and walk among the brave who fish the coastal waters.
LOCAL STORY
At Dana Point Harbor, just south of our Mission Viejo home, you can take day- and overnight-fishing trips.  We took an overnight trip many years ago with our friend Josh.  Two gals among many experienced fishermen, we were a bit intimidated and scared.  The boat rocked all night in the swells as we cruised south to warmer waters near the Mexican border.
Before dawn the crew alerted us that we were ready to fish.  The gentlemanly thing to do was to put the two of us on the trolling lines first.  Within seconds of throwing her line out, KO got a hit and landed a beautiful albacore.
The competitive nature of our fellow fishermen was thick in the air that morning.  It got worse when KO's fish was the only one caught for hours.
Eventually, the captain found another fish rich spot.  Everyone on the boat that trip caught at least one fish.  We made it off the boat alive.
VIEW FROM THE TABLE
These days when we go to Dana Point, we opt for buying fresh seafood rather than catching our own.  Jon's Fish Market is a great place to pick up a fresh catch for dinner.  They also sell their own smoked albacore and salmon, which makes a wonderful appetizer.  The Jon's version is smoked to perfection with a touch of sweetness in their smoking liquid.
Smoked albacore and salmon can certainly stand on its own.  We like to assemble it with some sweet diced red onion, capers, tomato, tartar sauce and crustini.
Smoked Fish Appetizer Plate
RECIPE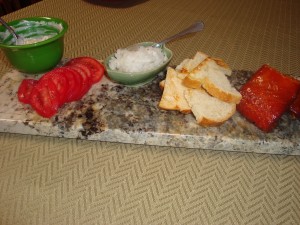 Homemade Tartar Sauce
RECIPE: Tartar Sauce