Cold Soup on a Hot Day
Palm Springs, California
MAPPING THE DAY
When we lived in Lake Arrowhead full-time, Palm Springs was a welcomed getaway from icy streets and bitter cold in the winter months.  Many of our friends and aquaintances from the mountain have a second home in Palm Springs.  It's the best of both worlds, summer in mountains, winter in the desert.  And the two locations are only an hour or so apart.
We actually spent a long weekend last spring in Palm Springs with friends.  The sunset silhouettes make a stunning evening view.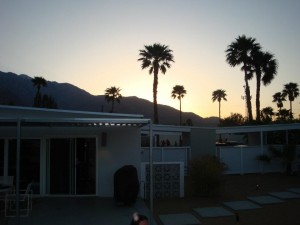 LOCAL STORY
There is a wonderful desert botanical garden in Palm Desert, just next door to Palm Springs, called The Living Desert.  We went for the day late in the Spring one year.  It is gorgeous that time of year, with desert plants all in bloom.  It happened to be quite hot that day, especially for a couple of mountain girls.  After walking through the park, we were hungry for something refreshing and light.
VIEW FROM THE TABLE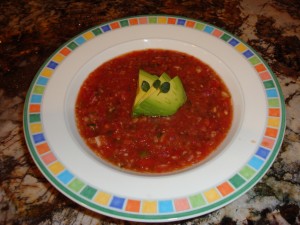 For lunch, we went to the posh shopping street in Palm Desert called El Paseo.  I don't even remember the name of the restaurant or if it is even there anymore, but I do remember the meal.  We both ordered a big bowl of Gazpacho: cold vegetable soup.  Chilled to perfection and served with big hunks of sourdough bread, it was a memorable cold soup meal on a hot day.
Gazpacho
RECIPE