Father's Day Steak: Big, Juicy and Flavorful
Cambria, California
MAPPING THE DAY
California's Central Coast is rugged, blustery and picturesque.  Waves crash through shoreline rocks before momentarily running up onto the jagged shore.  Our RoadTrip this time is located on the California coast, half way between Los Angeles and San Francisco.  Traveling north from San Luis Obispo, Highway 1 runs through Morro Bay.  From there, it proceeds to Cayucos and Cambria until it becomes a winding, two-lane road. It then continues along the coast through San Simeon and past the elephant seal colony at Piedras Blancas Lighthouse.  (You can actually continue for several hours of two-lane driving through Big Sur and end up in Monterey.)
We traveled with our two daughters and two pups and stayed at a pet-friendly motel called Cayucus Beach Inn.  It is a short walk to the ocean and close to many restaurants and shops.  The accommodations are really quite nice, but nothing fancy.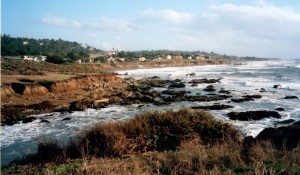 LOCAL STORY
There are many things to see and do along this part of the Central Coast.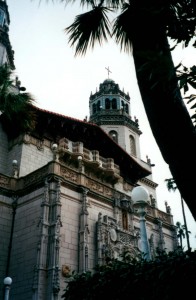 The sheer beauty of the coastline and places to explore will easily fill several days.  We took one of many tours available at the magnificent Heart Castle in San Simeon.  It is the mansion of newspaper magnate William Randolph Hearst.  It was designed by architect Julia Morgan starting in 1919.  The stories of how the grand structures and land were developed are fascinating.
 VIEW FROM THE TABLE
On our way back to the hotel, we stopped at a roadside shack restaurant in Cambria.  KO is not a fan of these kinds of places, but I insisted we try the famous "Santa Maria-Style" grilled tri-tip for lunch.
There are restaurants all up and down the Central Coast from Guadalupe to Cambria that serve this local favorite.  When you are there, research the best place at the time and dig into a treat.  Be sure to have the Pinquito Beans on the side.  Or, you can try our recipes at home.
 SANTA MARIA-STYLE BBQ GRILLED TRI-TIP
RECIPE