Aroma of Warm Pastry from the French Bakery
Beverly Hills (Los Angeles), California
MAPPING THE DAY
After graduating from college in 1979, I worked as assistant editor of a travel and dining magazine in Los Angeles.  The publishing office was located near the corner of Wilshire Boulevard and Robertson in Beverly Hills.  It was a very desirable location for shopping, dining and moving among the "beautiful people" (as my friend Michael would call well-dressed and groomed inhabitants of Los Angeles).
The editorial and production team made fairly meager magazine salaries in those days, which did not get us too far when it came to dining in posh restaurants nearby.   However, some of us were determined to try as much as we could.
LOCAL STORY
A few blocks from our office, there was a French bakery called Michel Richard.  Yes, this is where the famous chef of Citrus and Citronelle restaurants started over 30 years ago.  In those days, he was there, baking and even running the cash register of the small shop.  Mid-morning, we would take a break from mountains of copywriting and proofreading to walk down to Michel Richard for a warm pastry.
(NOTE: Until just recently, Michel Richard was open for business on Robertson.  According to the website(www.maisonrichard.com), the restaurant and bakery relocated to Stanley and Melrose in Los Angeles under the name Maison Richard Café and French Bakery.)
VIEW FROM THE TABLE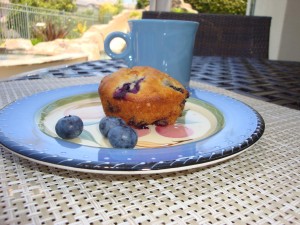 A warm pastry was carefully placed in a little white bag.  I would pick a few bites from edges as we walked back to the office.   I would then quickly grab a cup of coffee from the office break room (it was free).  At my desk,  wafts of goodness let me dream of travel, fine dining and someday writing a cookbook (or blog) of my own.
RECIPE
K.O. is the baker in this duo.  She picked fresh blueberries from our backyard vine and made these Blueberry Oatmeal Muffins.  Not too sweet, the blueberries are the star in this recipe.
Blueberry Oatmeal Muffins
RECIPE
.