Detour to the Caribbean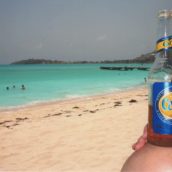 The Caribbean on the Oasis
Once we detoured to the Caribbean from Europe, we were in search of Jerk Chicken. We found the secret to the savory spiced poultry in a pre-mixed spice blend from a small vendor on St. Thomas. It has been a staple in our kitchen ever since. We order it online (the link is below). Why compete with perfection?
Mapping the Day
In April, 2010, our airline tickets were in hand, bags packed, train tickets purchased and hotels booked for a 14-day RoadTrip from Vienna to Paris.  It was a tight schedule with lots of ground to cover.  There was no room for error.  Suddenly news of the volcano in Iceland that spewed heavy ash across Europe dashed our plans.  Flights were grounded, trains overloaded and hotel guests became squatters with no other place to go.  Two days prior to departure, we cancelled everything.  But wait, we had two weeks vacation booked.  Rewind!
Local Story
We surfed the internet for another destination.  A last minute sale for a balcony stateroom on Royal Caribbean's Oasis of the Seas captured our wanderlust.  The magnificent ship, the largest in the world at the time, was our detour from Europe.  We quickly booked, repacked and flew to Fort Lauderdale.  We traded the railways of Europe for luxury at sea.
View from the Table
There were three port destinations of the seven-day cruise: Nassau, Bahamas; Charlotte Amalie, St. Thomas and Philipsburg, St. Maarten.  We combed each port for good food, shopping, magnificent beaches and, of course, grocery stores.  (We seek out purveyors of local ingredients for our recipe crafting once we are home.)  A package of jerk seasoning from a little stand in Charlotte Amalie was a treasure: Karjos Easispice Jerk Seasoning.
The cruise was a dream come true and we have been delighting in Jerk Chicken with our super-heated Hurricane Sauce ever since.
Jerk Chicken with Hurricane Sauce
RECIPE: Jerk Chicken
RECIPE: Hurricane Sauce