Hot as a Firecracker Chicken Wings!
Philipsburg, St. Maarten
MAPPING THE DAY
Cruising the Caribbean gives you the opportunity to see and taste and experience a number of different islands in a short amount of time.  Aboard the Royal Caribbean Oasis of the Seas, our first port was St. Thomas.  At lunch, we met a couple from another cruise ship.  They had just purchased beautiful jewelry on the island and were enjoying a quick lunch before heading back to their ship.
We happened to hit it off with them and decided to exchange contact information.  They are from Indianapolis and we are from Southern California.  So the chances of seeing them again are remote, but you never know.  It was so fun to meet new friends in a hole in the wall on the island of St. Thomas.
LOCAL STORY
The next day our ship made its way to Philipsburg, St. Maartin.  Known for many things, including an amazing beach, we decided to rent a couple chaises in the sand and enjoy the ocean for the day.  We walked along the strand and were hailed by a nice guy.  He explained we could have a couple of cold beers from his shack, use his restroom all day and enjoy a comfortable afternoon under his umbrella all for $15 each.  We decided to go for it.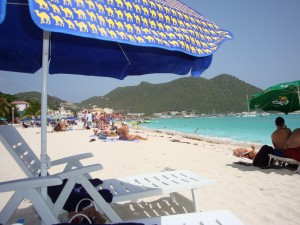 As he set up our chaises and umbrella, we settled in with our gear.  We gazed over to the next umbrella, and low and behold it was our new friends from the day before!  We moved closer to them and spent the entire day together.  It was so much fun.
VIEW FROM THE TABLE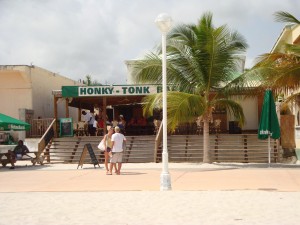 For lunch, we ordered from the convenient Honky Tonk Bar behind us.  Jerk BBQ Chicken Wings called my name.  And they were amazing.  Spicy, sweet, tender morsels of chicken, washed down with cold Caribe Beer with a view of the crystal blue sea.    Here's our version of Jerk BBQ Chicken Wings.  They are the entree for our Firecracker Hot 4th of July menu.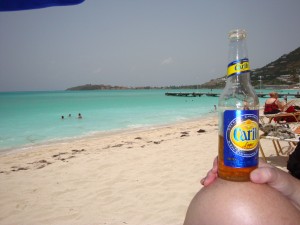 Hot as a Firecracker Chicken Wings
RECIPE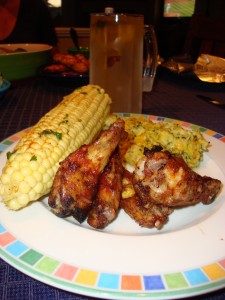 RECIPE
Jerk Seasoning
RECIPE