3 Things We Love About Rome: Wine, Familiar Faces and Pasta Carbonara
Rome, Italy
MAPPING THE DAY
Staying on the Via Veneto in Rome proved to be an ideal location for walking, catching a sightseeing bus to tour the city, shopping and dining.  One of the most famous streets in Rome, it is charged with the energy of locals and tourists converging on the best the city has to offer.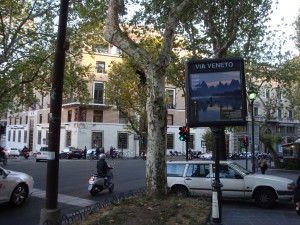 LOCAL STORY
We prefer local haunts rather than tourist traps.  So for dinner the first night of our short two-night stay, we walked down some neighborhood side streets and found a charming small restaurant.
When we walked in, we had a slightly haunting feeling that we had been there before.  On our last trip to Rome, six years prior, we stayed at the top of the Spanish Steps over a mile away, so we dismissed our familiar thoughts.
We ordered water with gas, a bottle of wine, green garden salads and two kinds of pasta: carbonara and ravioli.
VIEW FROM THE TABLE
As we settled in and scanned the small establishment, we saw someone we recognized.  Could it be that the head waiter now had served us six years ago?  We beckoned him to the table and asked if it was possible.  And certainly it was.  He explained he had been there for eight years and warmly welcomed us back.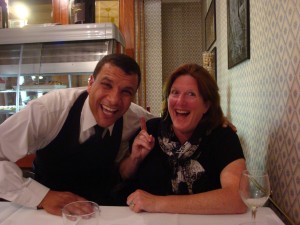 It was a delightful happenstance and wonderful meal.  Real Italian food is so beautifully simple and showcases fresh ingredients.
Pasta Carbonara
Printable recipe