Real Parmigiano Reggiano in Parma, Italy
Parma, Italy
MAPPING THE DAY
Traveling by train from Venice to Florence, we decided to take a side trip to the town of Parma.   It is in the Italian region of Emilia-Romagna in Northern Italy.  From Venice, we took the rail to Bologna, transferred and headed a bit north again to Parma.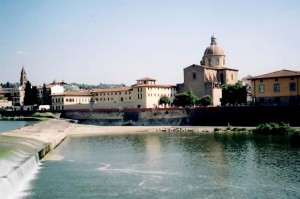 LOCAL STORY
Not many tourists make it to Parma, so don't expect everyone to converse in English or languages other than Italian.  We checked in to our lovely typically European hotel called Hotel Palace Maria Luigia and started out to discover the town.  There is beautiful architecture in Parma, including a Romanesque cathedral and a 12th century Baptistery.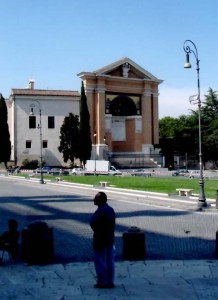 Parma is also known for its local cuisine and famous products:  Proscuitto di Parma, Parmigiano Reggiano and Barilla pasta. We could just smell the quality ingredients in the air as we headed back to our hotel.
VIEW FROM THE TABLE
There was a small bar in the hotel lobby, so we decided to have a beer before getting ready for dinner.  When our two Peroni Nastro Azzurro beers were delivered, the bartender placed a small plate on our table with a few morsels of cheese, olives and nuts.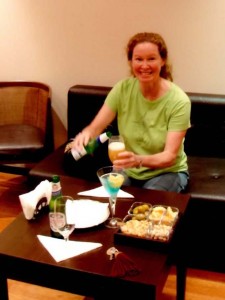 With a swig of beer, we each tasted the cheese.  The robust flavor filled our mouths.  In addition to flavor, each morsel had a little granular crunch of texture.  Nutty, savory, salty and ever so slightly crunchy, we had just eaten REAL Parmigiano Reggiano in Parma.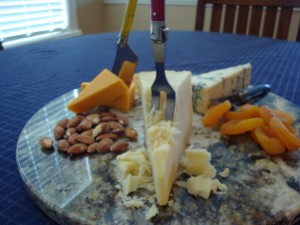 Cheese varieties each tell their story of ingredients, production and aging in flavor and texture.  Simple presentation of three varieties with dried fruit and nuts is an elegant appetizer for a cocktail party.  Arrange the cheese, fruit and nuts on a slab of granite or hardwood board.  Place cheese knives near each piece of cheese so guests can portion their own.  Elegant and simple a three cheese presentation is a perfect paring to wine, beer or cocktails.
Three Cheese Appetizer Plate
RECIPE